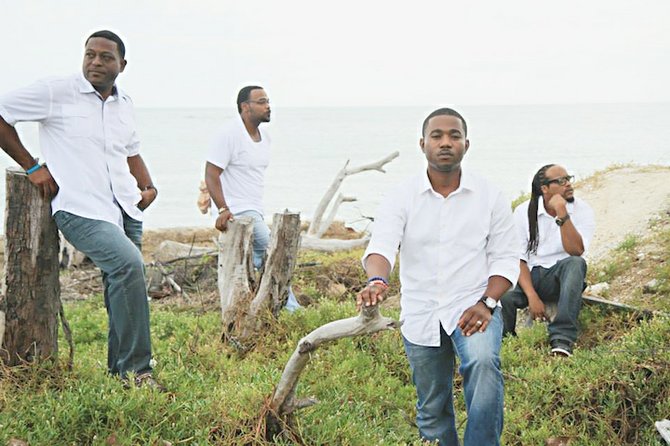 By LESH
Tribune Features 
Reporter
acadet@tribunemedia.net
JUST when you thought you have heard it all from the Bahamas Rat Pack, the musical group has cooked up another hot hit by member Sammi Starr.
The new single, "Please Stay", which features Bahamian musician Chosen, has received positive feedback from social media supporters as well as local radio stations since its release.
In an interview alongside his group members, Sammi said this is a big year for the Bahamas Rat Pack and they are enjoying the ride.
The Bahamas Rat Pack group members include So$a Man, MDeez, D Mac and Sammi Starr.
" 'Please Stay' is a song that I wrote. I wrote it basically to talk about relationships and opportunities," Sammi told In Ya Other Ear.
"You can look at it from so many different aspects, but it is saying that you missed an opportunity to make your relationship work, and now that you realised it, it is too late. You are pleading with the young lady or young man to please stay, don't go away, let's try and make this thing work."
After writing the lyrics for the song, Sammi said he went into the studio, working with local producer Soulja Shaddy, and they both created the R&B style track.
"I have to shout out Soulja Shaddy, the prime minister of music. He came in and of course put some nice touches on it. It was nice, we came together and both mastered it. The song came out great; the ladies love the song and I appreciate that. We released it on all stations and on social media, we got lots of retweets and SoundCloud plays. The video script is done and it's just amazing," said Sammi.
So$a Man said with this being the third single released by the group, they tried something different by bringing in a new producer in Soulja Shaddy, who is an affiliate of the group, as well as the singer Chosen. The Bahamas Rat Pack's recent songs include "Top Of The World" by group members and "War", featuring MDeez.
Speaking about his collaboration with Chosen, Sammi said he is always open to working with various talents.
"Chosen is not really new on the scene, but he is new to stepping out in the front. He did an excellent job with the song. In the extended version, he has a rap segment and that will be coming soon. That is another thing we are going to be doing soon as the Bahamas Rat Pack. The idea is to form this core with the four different genres and all of us working together to take the Bahamas to the world," Sammi said.
"It is also a way to give opportunities to other up-and-coming artists to work with us and get the exposure that they would need to put their music out."
He said "Please Stay" was a perfect way to bring in Chosen and allow him to be a part of the project. Sammi said he does not want people to get the impression that the Rat Pack is just the four members and they are not open to doing songs with anyone else, because that is not the case.
"The whole idea is for us to motivate every other artist and for us to be able to listen to what everybody has and to network with them because this is a movement," said Sammi.
So$a said one thing he likes about these singles is the way they draw the support from the Bahamian community as well as the social network community.
MDeez said the support is a grand feeling and he thanked the media on the whole and the fans that have been supporting the Rat Pack movement and each one of the members as solo artists.
"We want you all to keep supporting because the Bahamas is our mission and our goal regardless of the genres that each one of us do, we all push the Bahamas first. It is good to be a Bahamian and see Bahamians support the things we do. 'War' had a tremendous response and I want that to continue with 'Please Stay'," said Sammi.
D Mac said the Bahamas Rat Pack movement is looking to get products, materials and songs that they can take to the rest of the world and represent the Bahamas on a proper scale. He thanked So$a, Sammi and MDeez for joining together as a brotherhood to make this thing happen and casting all egos aside.
"We get calls daily and we are so grateful for the supporters, because without them we wouldn't be able to do what we do. Let's get together guys, because this is all about solidarity. What I like about this song ('Please Stay') is that it is the reinvention of the Sammi hits. This is the new thing, the new sound and the new era. This is just a taste of what's to come, so continue to look out for the Rat Pack. Big things are coming down the pipeline and we have a lot of good things that are coming your way," said D Mac.