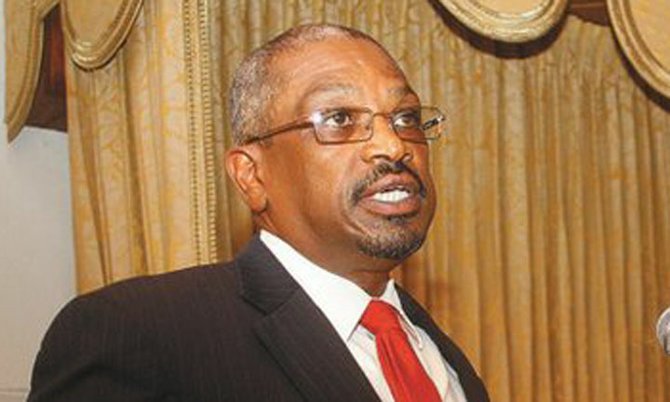 By SANCHESKA BROWN
Tribune Staff Reporter
sbrown@tribunemedia.net
FREE National Movement Leader Dr Hubert Minnis yesterday distanced himself from a demonstration being planned by FNM Deputy Leader Loretta Butler Turner saying "it is not an FNM sanctioned event and has nothing to do with the party."
Speaking with The Tribune, Dr Minnis refused to comment on the matter other than to say "the FNM has not declared anything, it is not an FNM event."
In an interview with The Nassau Guardian on Tuesday, Mrs Butler Turner said the Prime Minister abused his power when he called the managing director of a bank and stopped the repossession of the home of VAT coordinator Ishmael Lightbourne. Mrs Butler Turner then urged activists and struggling homeowners to join her and the FNM in a peaceful protest outside Parliament to demonstrate against Prime Minister Perry Christie.
However, according to sources close to the FNM  not only is Dr Minnis not supporting Mrs Butler Turner, but she has yet to get the support of any of her FNM colleagues.
"She made that declaration without even speaking to anyone in the party first. No one knew what she was planning, that is not the way things are done," the source said.
"Everyone knows she is doing this as a part of her leadership campaign, the real story is whether or not she can drum up the support from her Parliamentary colleagues. It is no surprise that the leader thought to distance himself so quickly from he event given the fact that the Deputy seemed so clear and confident in what she was going to do, and the support she thought she would have. We will have to wait and see how much people rally behind her and the so-called cause."
Reports of a rift between the leader and deputy leader of the FNM began to circulate last year after it was rumored that Mrs Butler Turner would challenge Dr Minnis for leadership of the party.
However, in an interview with The Tribune Mrs Butler Turner strongly denied the growing report that the party is facing "internal friction" over its leadership.
In fact, Mrs Butler-Turner defended Dr Minnis, whose leadership has been questioned, not only by the PLP, but also political observers, and members of his own party.
"Unequivocally no, there are no problems. Are there levels of miscommunication? Probably. The reality is this, it's not long into a new leadership. We now have Dr Hubert Minnis as our leader. We just came off the eve of a crushing defeat.
"You have a man who is just getting into the groove of leading a large political organization," Mrs Butler-Turner said.