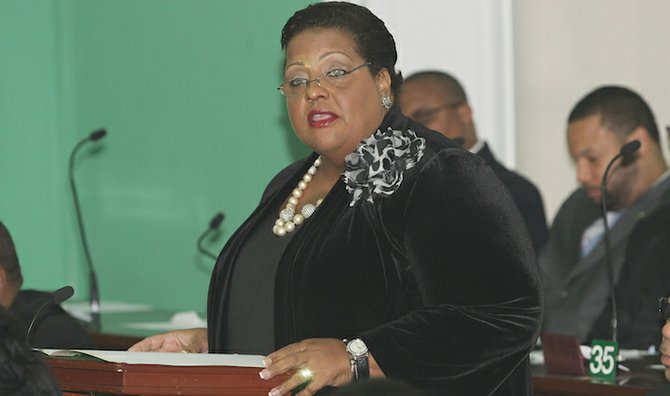 By SANCHESKA BROWN
Tribune Staff Reporter
sbrown@tribunemedia.net
FNM DEPUTY Leader Loretta Butler Turner said she will continue her crusade to stop Bahamians from losing their homes despite her decision to postpone her march against Prime Minister Perry Christie.
In an interview earlier this week, Mrs Butler-Turner said the Prime Minister abused his power when he called the managing director of First Caribbean Bank and stopped the repossession of the home of VAT co-ordinator Ishmael Lightbourne. Mrs Butler-Turner then urged activists and struggling homeowners to join her and the FNM in a peaceful protest outside Parliament to demonstrate against Prime Minister Christie.
However, Mrs Butler Turner said the march has been postponed and instead she is now gathering the names and information of Bahamians whose homes are being repossessed so Mr Christie can "call the bank for them too".
"Right now, I am gathering information that will help me so when I speak to the issue, I will know what I am
talking about. If Mr Christie can make a call for one person he can do it for all. The same call he can make to a private bank and intervene, he can call government-owned banks and the Mortgage Corporation and help others," she said.
"I am also asking some attorneys to intervene on behalf of people who are losing their homes. I am trying to get them some pro bono work because I do not want to see people losing their homes. So I am compiling a list of all the people that need the Prime Minister to make a call for them and then I will present it to the press and to Mr Christie."
In a press release issued Wednesday, FNM Chairman Darron Cash said he agrees that Bahamians should march in "protest of the PLP's failure and deceit on the mortgage relief programme". However, he questioned who should lead that protest.
"Furthermore," he said, "the Deputy's statement should be taken in context. Yes, she did call for people to join her. However, the inference was very clear that the issue would be discussed with her Parliamentary colleagues to assess their perspectives. The issue was in fact discussed and the consensus position was precisely as was well articulated by the party leader Dr Hubert Minnis – the Party would not lead such a march or demonstration. The team understood that the FNM's involvement in any such protest as a lead organiser – at this time – would immediately give the Government further excuse for under-performance by insisting that the people's protest was politically motivated."