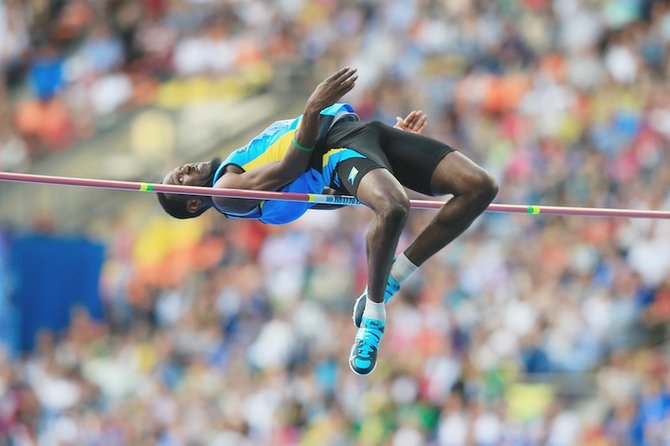 By BRENT STUBBS
Senior Sports Reporter
bstubbs@tribunemedia.net
After being grounded by a tooth injury at the International Amateur Athletic Federation World Indoor Championships in Sopot, Poland, high jumper Donald Thomas is hoping that he will be soaring again once he completes some dental work on Monday in Auburn, Alabama.
Thomas, 29, revealed to The Tribune on Thursday that he will undergo dental procedures for his wisdom tooth and a root canal on another, which hampered his progress during the championships where he failed to clear the opening height during the preliminaries of the men's high jump.
"I wanted to do it before Poland, but the doctor didn't want me to fly with air pockets in my mouth," Thomas said. "He gave me some antibiotics to calm my nerves, but that just killed everything because I was allergic to what he prescribed."
During the championships, in which he competed with Ryan Ingraham, Thomas said he didn't feel any power as his body just shut down.
"I couldn't respond," he said. "I felt kind of dazed. I felt alright running, but when it was time for me to put power in the ground, I didn't have any power. Come to find out, when I got here, I had to be rushed to the hospital because of the medication that I was taking. But all is good now."
Going into the championships, Thomas was off to a great start, jumping a personal best of 2.33m or 7-feet, 7 3/4-inches about a month before.
And then to go to Sopot and fail to get in a jump was quite devastating for Thomas, who was seeking his first global indoor medal.
He would have had to go even higher if he would have contended for a medal in Sopot as Mutaz Essa Barshim of Qatar won the gold with 2.38m (7-9 3/4), while Russia's Ivan Ukhov took the silver with the same height and the bronze went to Andriy Protsenko of the Ukraine with 2.36m (7-8 3/4) in one of the most exciting finishes ever in the history of the championships.
On his return to the United States, Thomas said he had to be rushed from his home in Auburn to the hospital where he had to undergo treatment because of the effects he experienced as a result of the medication that he took for the pain prior to jumping in Sopot.
"It was scary, but I got it all worked out," Thomas said.
After the procedure on Monday, Thomas said he is expected to be out of action for about a week. But he doesn't anticipate that it will adversely affect his preparation for the 2014 outdoor season.
"I'm training through this weekend to make up for the lost time that I will experience next week," he said. "So I should be alright."
If everything goes as planned, Thomas said he should still be on track to begin his outdoor season around the third week in April.
"The sky is the limit," he said of his expectations for the upcoming season. "I'm training everyday, just preparing for outdoors. I just want to be competitive. I want to go out there and compete and give it my best shot. I know once I do that, I will be in the mix. So the focus is just to be healthy and compete at a high level."
The 2007 world champion from Osaka, Japan, is looking forward to being in a position to atleast defend his title from Delhi, India, at the Commonwealth Games in Glasgow, July 23 to August 3. He also won the Central American and Caribbean Games title in 2010 in Mayaguez, Puerto Rico, and would like nothing better than to go to Veracruz, Mexico, November 15-30 to repeat the feat.
"My main goal this outdoor season is to go to Commonwealth Games and represent the Bahamas to the best of my ability and hopefully come back with my title," he said. "That's my goal. I'm also looking at the CAC Games, but that's so late in the year that I will have to see how the season goes first."