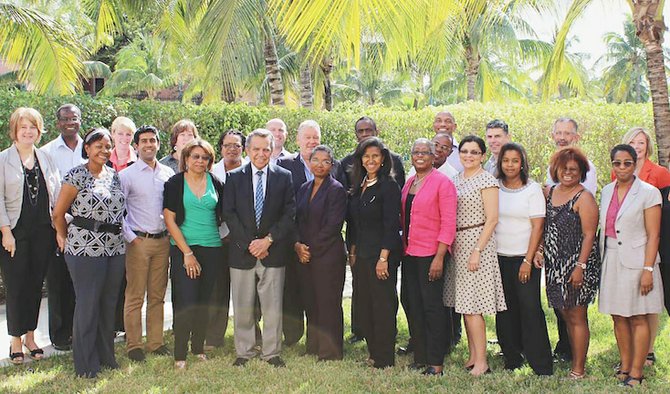 AN investment firm has donated $250,000 to help children battling with life-threatening diseases.
Bahamas-based global investment firm Holowesko Partners first formed a link with the SickKids - Caribbean Initiative (SCI) decades ago, when the two-year-old brother of one of the company's members was diagnosed with cancer.
After searching for the best care available, first in The Bahamas, then in the US, the company finally discovered SickKids, based in Toronto, Canada.
The latest donation builds on that long-standing relationship.
Working closely with Dr Corrine Sinquee-Brown, paediatric haematologist-oncologist and lecturer in child health at The University of the West Indies, and Princess Margaret Hospital, Holowesko Partners is helping to fund SCI's work in The Bahamas, which aims to bring childhood cancer treatment in countries such as the Bahamas to the level of care offered in other countries.
"Cancer is a life-threatening illness that affects children in every country. Although we are now able to cure over 80% of the approximately 1,500 children with a newly diagnosed cancer in Canada each year, this remarkable statistic is not true for children in other parts of the world," said Dr Victor Blanchette, SickKids haematologist/oncologist.
"The major goal of SCI is to close the gaps in diagnosis and treatment of childhood cancer between Canada and countries such as the Bahamas. The very generous donation from Holowesko Partners will play a very important role in supporting our project in the Bahamas and in other partner countries in the Caribbean.
"The legacy of this humanitarian, capacity-building initiative will be told in the years to come by the lives of those children cured of their life-threatening cancers."
SCI has trained health professionals, provided consultation and diagnostic expertise through telemedicine, developed and expanded access to treatment and supportive care, created a training curriculum for nurses and established patient management tracking tools.
Within the past year, SCI has seen the training of Dr Michelle Reece-Mills from the University of the West Indies Hospital, a two-year fellowship at SickKids for Dr Sharon McLean of Jamaica's Bustamante Hospital for Children, and observational training in flow cytometry and cytogenetics for seven laboratory staff from the Caribbean.
The initiative's telemedicine labs serve as hubs where local doctors, nurses and allied professionals can learn from their peers around the world.
The first pilot session of the Case Consultation Review Rounds took place in Nassau on September 23, 2013. Two complex cases were reviewed; one haematology and one oncology, and through a collaborative session, a treatment plan was developed for each.
"The SickKids-Caribbean Initiative is a great example of collaboration on so many levels and showcases donors like Holowesko Partners' commitment to Bahamian children's health," said Ted Garrard, president and CEO of the SickKids Foundation.
"We are so thankful for such generous contributions and we are pleased to say this program will immediately improve the outlook and outcome for children living in the Bahamas and the Caribbean."
Mark Holowesko, President and CEO of Holowesko Partners called SCI "an amazing step forward" in cancer and rare disease care for Bahamians. "We are extremely honoured and proud to support SickKids in this endeavour," he said.