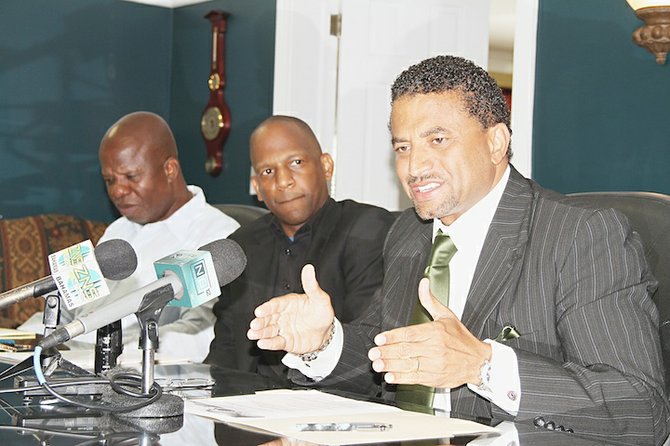 By KHRISNA VIRGIL
Tribune Staff Reporter
kvirgil@tribunemedia.net
DEMOCRATIC National Alliance leader Branville McCartney says he does not feel safe as law enforcement battles the ongoing scourge of crime in the Bahamas. Describing the constant bloodshed as a travesty, Mr McCartney declared that the Christie administration simply lacks the political will to control criminal activity.
He was speaking during a press conference at Halsbury Chambers on Village Road yesterday where the DNA assessed the Christie administration's progress just days short of its two-year anniversary in government. Mr McCartney said Operation Safe Bahamas and Urban Renewal 2.0 – both plans on which the PLP campaigned on the combat crime – have failed to have any impact.
"I don't feel safe in this country," he said, "I might as well put that on record. This government promised to deal with it and they have not. They have failed miserably to deal with the crime problem in the country. When I drive home, I don't feel safe."
"It affects your personal life. We live in paradise, but we are paralysed by fear. We are in prison in our own homes because of the criminal element running amuck in this country."
Asked if the DNA had the answers to solving the crime situation in the Bahamas, Mr McCartney said his party believes in enforcing the death penalty and allowing the Royal Bahamas Police Force to do its job, among other things.
"We need to unleash the Commissioner. Let the Commissioner and the police do their jobs. We need to stop this political interference. Because you will find over and repeatedly that these criminal-minded persons, many of them have persons who can make a call to government officials and say 'I've been locked up' and then the government officials say (to the Commissioner) 'Let my man go or let my woman go'.
"We need to start sweating the small stuff (and) enforcing our laws from the simple crimes right up to the most heinous crimes. There is no order and there is no discipline in this country. We have a society that's not disciplined. We have a society that doesn't have order.
"The number one order of the day is to get crime under control. That is what we will do and we will have the political will to enforce the law," Mr McCartney said.