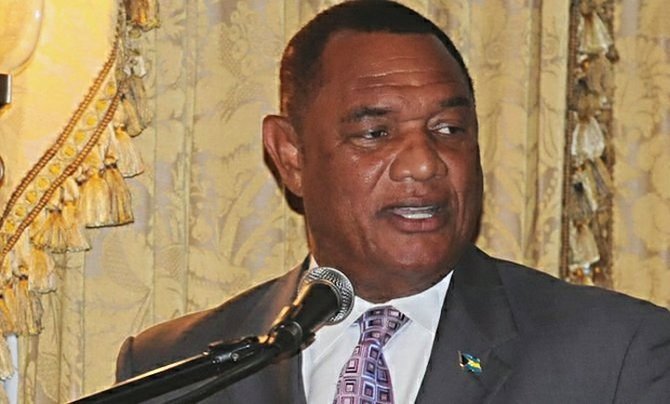 By SANCHESKA BROWN
Tribune Staff Reporter
sbrown@tribunemedia.net
PRIME Minister Perry Christie said yesterday the government is developing new crime fighting strategies to win the "war" that they are fighting against "hostile young men" in the capital.
Mr Christie said he has had several meetings with high ranking officers of the Royal Bahamas Police Force in the hopes of developing new, more effective methods of "curbing, stopping and eliminating crime".
The Prime Minister also admitted that certain things that could have been done to fight crime have not been done, but he said the Minister of National Security, Dr Bernard Nottage, is working "with due speed" to execute these schemes.
"It is vexing and frustrating," said Mr Christie, "that I continue to know that the bulk of the crime is taking place in areas that I and Dr Nottage represent and there must be a strategy to cause crime to be abetted, minimised and disrupted. But I have had meetings on that subject and I have had maps produced to show me where the crime is taking place and just to repeat again what I said, we are committing to providing the necessary resources.
"We believe that there is a strategy that will work and we have to be satisfied that it is the clear intention on the part of those who carry out the strategy to ensure that it is effectively done. We believe that, in our discussions, those officers we have been meeting with, that are a part of the leadership of the Royal Bahamas Police Force, are aware that certain challenges that ought to have been met, have not been met and are moving with the Minster with due speed to implement and execute them.
"Too many young men are becoming victims of their own circumstances of living, how they live, how they deal with each other. I have said to the police that I do not need to tell you that you are in a war and that however difficult it appears we cannot lose the war. It is a war that has a hostile arena and it also must be met with intelligence and actions that would recognize that people have to work."
Mr Christie also said that the government is open to suggestions and is considering all crime fighting strategies that have been presented to them.
"People must have options and the government must be much more proactive in being able to put a finger on the pulse and measure the temperature and know what possible solutions we can apply. Something is wrong if you kill someone over a plate of food, or you are driving with a friend and you get vex with them and you shoot your friend. The unpredictability of such events are so extraordinary and enormous in its implications as to how you police that behaviour, you have to resort to talking to people, explaining to people what the position is and I think we are in the process of doing that," he said.
"So, rather than be faced with a situation that you believe you are unable to address effectively, I take the opposite view. Not withstanding challenges the government of the Bahamas is elected to govern and we will continue to examine all of the strategies that are recommended to us, all of the strategies that go into dealing effectively with a critical situation we are faced with."
Mr Christie said crime must be a comprehensive effort, not just by the government, but by the country, the church and the NGO's.