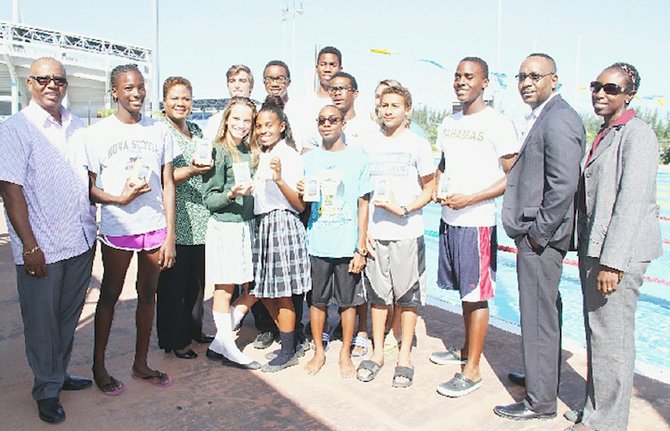 By BRENT STUBBS
Senior Sports Reporter
bstubbs@tribunemedia.net
IN appreciation of their historic gold and silver medal performances respectively, major sponsor BTC presented members of the Bahamas CARIFTA swimming and water polo teams with brand new mini S4 cellular phones.
The packages, presented on Monday at the Betty Kelly Kenning Swim Complex, includes two data cards valued at $40 and a coupon for an LTE Sim Card. The presentations were made by Carol Barnett, BTC's manager of events and sponsorships, and Jerome Sawyer, BTC's senior manager of public relations.
"This isn't the first time that we presented phones to the CARIFTA team, so this is just a continuation of what we have always done when it comes to athletics and so you will see that commitment increase even further," Sawyer said. "In a few weeks, we will sign on as an endorsed talent, Arianna Vanderpool-Wallace, who obviously is a swimmer. So this speaks to our commitment to athletics across the country, whether it be swimming or track and field. It's so significant for us to do this for the swim team because a lot of times people say we only do it for the track and field athletes. But if you look at the commitment of BTC, you would see that we try to do something for all of our athletes, particularly when they do something very well."
The 36-member swim team returned from the 29th CARIFTA Swimming Championships in Savaneta, Aruba, at the end of April with a total of 736.50 points and 55 medals (23 gold, 22 silver and 10 bronze) for its first title ever at the top regional annual meet.
And over the weekend in Willemstad, Curacao, the Bahamas' under-16 water polo team also made history by picking up the silver medal at the CARIFTA Water Polo Championships, losing 17-2 to Trinidad & Tobago.
Sawyer, however, said BTC will not be making any presentation to the track and field team that returned from the CARIFTA Games in Fort-de-France, Martinique. Team Bahamas finished in seventh place with 20 medals, including one medal.
"We sponsor the BAAA. We are in a multi-year contract with them. We sponsor track and field in various aspects," he said. "We helped to get the CARIFTA team there, but certainly when something like this happens, we always add on a little extra."
Algernon Cargill, president of the Bahamas Swimming Federation, and assistant secretary Zelda Allen were on hand with a third of the team to receive the packages from BTC. He said the victory was long overdue and now it's time for the swimmers to reap their harvest.
"We've had our share of challenges, but primarily because of the support of the government and Dr Daniel Johnson, (the Minister of Youth, Sports and Culture), they stepped in and made sure that the team was able to travel to CARIFTA on the Bahamasair jet," Cargill said.
"That made a hugh difference in terms of the corporate support of CARIFTA. This is an initiative that was started in 2003 with Neville Wisdom (then Minister of Youth, Sports and Culture) and that is to ensure that every CARIFTA team leaving the Bahamas is able to travel on a Bahamasair jet. We are the only company that benefits from the expenses that come up to about $200,000."
Cargill thanked BTC for their gesture, as well as Morley Realty, the Abaco swimming community, RBC, CIBC, and First Caribbean for their continued support of swimming. He also thanked head coach Andy Knowles and the rest of the management team for keeping the team motivated in Aruba.
One of the swimmers, Doran Reed, expressed her gratitude on behalf of her team-mates for the gesture by BTC. "I'm really happy and I'm looking forward to using it," she said. "We had gotten phones before when we had CARIFTA here two years ago, so it wasn't that much of a surprise when we heard we were getting one. In fact, I really need a new phone."
As for the team's performance, Reed summed it up in one word: incredible.
"I'm still in shock that we won this year. It's really exciting and everyone swum their best. We all did a good job," she said. "We were not expected to win, so I was really surprised that we did. We had a very strong team, so the fact that we pulled through was quite exciting."
If they can continue to train as hard as they did this year, Reed said she doesn't see why they can't duplicate the feat next year.