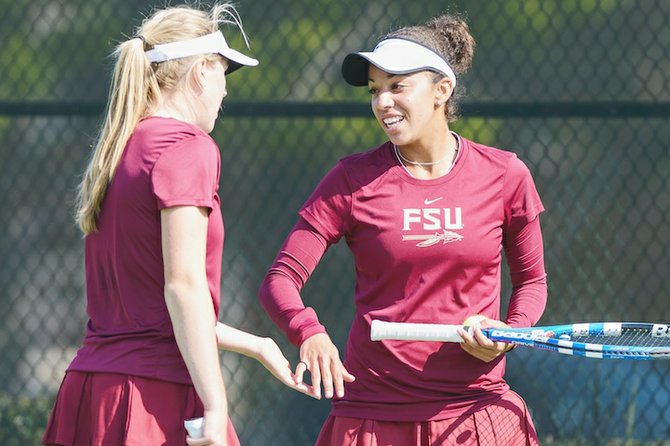 By BRENT STUBBS
Senior Sports Reporter
bstubbs@tribunemedia.net
KERRIE Cartwright and her room-mate Daneika Borthwick will have the distinction of representing the Florida State Seminoles in the doubles competition at the 2014 NCAA Division I Women's Tennis Championships.
The duo, now in their junior year, qualified as one of the 32 teams selected to compete in the tournament May 21-26 at the Dan Magill Tennis Complex in Athens, Georgia, following the conclusion of the team championships May 15-20.
When contacted yesterday, Cartwright was overwhelmed by their selection, the first by a Bahamian female player. "I am so excited because only a few people actually make it to the NCAA, basically the top 20 in the country," Cartwright said. "So for us to make it, I feel honoured. I'm really excited and I really can't wait to go."
Cartwright, who spent her freshman year at Tyler Junior College in Tyler, Texas, said she and Borthwick have connected so well together being room-mates.
"Everything is working in our favour," she said. "I love playing with her. She brings out the best in me and I do the same for her."
No doubt, Cartwright said she's hoping that will equate to their success at the tournament.
"I hope we can play well as a team. I don't want to say that we will win everything, but I'm hoping that we can go there and perform very well," she said. "If we play the way we are capable of playing, I'm sure that we will have a very successful tournament."
On the Seminoles' website, head coach Jennifer Hyde had nothing but praise for the duo.
"I am really excited for Kerrie and Daneika. It is a hard-earned accomplishment and I am so glad that they were rewarded for all the great tennis they played together during the spring. There were a number of doubles matches where they were even or had leads against top-ranked doubles teams that were stopped when the doubles point was clinched," Hyde said.
"I was concerned that those unfinished matches would have kept them out of nationals and am very excited that they were able to advance because they have every right to be in that tournament. They can do damage when they make their minds up. We are focused now on the team competition, but once that winds down we will get them ready to head in and give it a go at a national title in doubles."
Cartwright and Borthwick posted a 14-8 record together this year, including a 12-4 mark during the spring dual-match season. They have three wins over ranked opponents, and all three have been within the last five weeks with wins over Syracuse's Valeria Garza and Maddie Kobelt (No. 45), Virginia's Julia Elbaba and Rachel Pierson (No. 11) and Clemson's Yana Korleva and Beatrice Gumulya (No. 26).
They are the seventh Florida State doubles pairing to be selected for the NCAA Championships. The last team was Nicola Slater and Carolin Walter in 2007. Audra Brannon and Laura Randmaa made the FSU's deepest run in the NCAA doubles tournament when they made the quarterfinals in 1993.
However, before the doubles competition, the Florida State women's tennis team are slated to play Arizona 1pm May 9 in the first round of the 2014 NCAA Team Championships. The winner will go on to face either Georgia or Elon at 4pm on May 10. Both matches will be held at the Dan Magill Tennis Complex.
Looking back at their season as they prepare for the grand finale, Cartwright said they didn't start off as well as they anticipated, but they were able to step it up as the season progressed.
"I just hope that now that we are at the end of the season, we will peak and start playing a whole lot better," she said. "We're practicing everyday, doing our drills, weightlifting, fitness and preparing mentally. We have a good team bonding and we're doing any and everything possible to do very well."
While Cartwright is the first Bahamian to reach the doubles plateau at the NCAA level, nobody is more proud of her achievement than her father, Sean Cartwright.
"I am very, very proud of her. The path that she is on, I think it's very happy," he said. "The last several matches she's played, she played against teams that were ranked very high. They just played the No.1 school in the nation and had the No.1 player in a position where she could have taken the match.
"But NCAA rules state that if the other players on the team lose a match, the players don't get to complete their matches. So she had her chances, but was never able to finish any of the matches. She can't get any better than this. I'm really happy for her and I'm looking forward to her playing very well in the tournament."
Cartwright, a former men's national champion in both singles and doubles, said he has already booked his ticket to travel to Georgia to watch his daughter in action.
More like this story