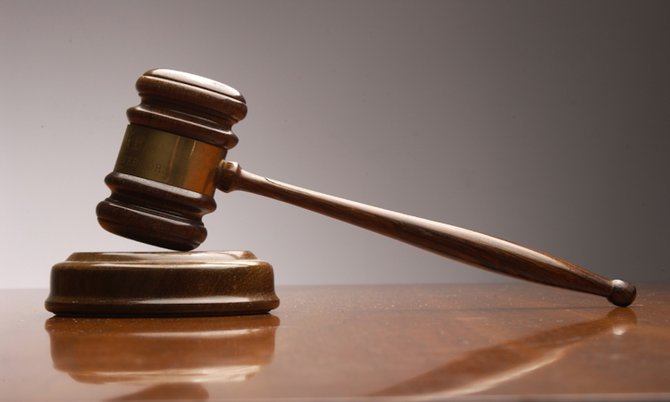 By DENISE MAYCOCK
Tribune Freeport Reporter
dmaycock@tribunemedia.net
FREEPORT – Denie Osias was found not guilty of murder, but guilty of manslaughter in the Supreme Court yesterday in the stabbing death of his sister's boyfriend in July 2012.
Osias, 28, was on trial for the murder of Calvin "Smokey" Stuart.
The prosecution and defence submitted their closing arguments this morning. After Senior Justice Hartman Longley gave his summation in the case, jurors retired around 1:50pm to deliberate. The jury of nine men and three women returned around 4pm with the verdict, finding Osias guilty of manslaughter by a vote of 11-1.
Justice Longley has set sentencing for June 26.
Osias was represented by attorney Paul Wallace-Whitfield. Erica Kemp of the Attorney General's Office appeared on behalf of the Crown. In his closing argument, Mr Wallace-Whitfield told jurors the prosecution's case was "weak and tenuous".
"There is insufficient evidence to support the charge of murder," he said. "There is insufficient evidence to find Denie Osias guilty beyond a reasonable doubt of the murder of Calvin Stuart. You must return a just verdict of not guilty," he submitted. 
Osias is accused of the stabbing death of Stuart on July 11, 2012 following a domestic dispute between the couple.
The prosecution alleges that Osias went to his sister's apartment on Carissa Street and Sunridge Road around 8:30pm that day to confront Stuart about beating up his sister. During an argument he pulled out a knife and stabbed Stuart multiple times in his body.   
Mr Wallace-Whitfield said his client went to his sister's to see what was going on because Stuart had beaten her up. "Denie went there to talk and Calvin threatened him," he claimed.
He claimed that Stuart had the knife and threatened to shoot Denie, who was fearful. He said his client took the knife away from Stuart. The two fought and fell on the fence and Stuart was impaled. 
The attorney said no knife was found.
Stuart, 26, suffered three wounds, according to medical evidence at the trial. 
Pathologist Dr Ana Tancawan, one of several witnesses called by the prosecution, testified that Stuart sustained three wounds, including two in the stomach area and a fatal incised wound to the heart. 
Prosecutor Erica Kemp, in her closing argument, told the jury that Osias intentionally and unlawfully caused the death of Stuart.
She argued that Osias was on "a mission" to teach Stuart a lesson for beating up his sister.
After the stabbing, she said Osias turned himself into police and told officers that he stabbed Stuart twice in the stomach. 
He urged jurors to reject the court testimony of the accused that Stuart was impaled after falling on the fence.
Using a ruler to aid her she pointed out that the spikes on the fence are only 2mm and Stuart had sustained a one-inch (or 2.5cm) wound to the heart.
Prosecutor Kemp also noted that a witness, Lucinda Haven, saw Denie with the knife.
She said that the deceased was unarmed at the time and that harm inflicted by Denie was unjustified. "Denie Osias was never in any imminent danger," she argued.
She said the accused's sister and Stuart were always arguing. "Smokey" was outside asking for his clothes and she was inside the apartment.  
She noted next-door neighbour Lucinda Haven heard the accused's sister make a telephone call to her brothers.
One brother, Ronald Osias, also known as "Woo-woo," pulled up in a truck. He hit Stuart in the head with a baseball bat. Soon thereafter, Denie arrived. 
Although both brothers were initially charged with Stuart's murder, the prosecution entered a nolle prosequi with respect to Ronald Osias.
Mrs Kemp said the Crown was also relying on circumstantial evidence. 
She said no one saw the actual stabbing, but at the end of the day Denie had the knife. "He was in control of the knife, he was fighting with Stuart and he washed off blood from his hands in the puddle," she submitted.
Kemp also submitted that Osias' story about disarming Stuart was a fabrication. She noted that if Stuart had the knife as Osias claimed, why was it that he did not sustain any injuries, not even a scratch to hands in wresting the knife away from Stuart.   
"We submit that Calvin never had a knife," she said. The prosecution also told jurors to reject any claims of provocation and self-defence. 
In his direction to the jurors Justice Longley said provocation could be considered if they believe that the defendant suddenly and temporarily lost his self-control from things said or done by the deceased.
"The accused alleged that the deceased attacked his sister and threatened to shoot him," he said.
Justice Longley told jurors that if they found that the deceased did not sustain injuries by the accused, then he was not guilty.
"If you find defendant acted in self defence or provocation and if you accept the case put by defence, then you must acquit," he said. "If you reject the case by the defence and accept the case of the prosecution, you must find him guilty." 
Justice Longley said that a 12-0 verdict must be reached to convict Osias of murder.  "If you acquit him of murder, but find him guilty of some other offence, the verdict can be 12-0, 11-1, 10-2, 9-3, or 8-4," he instructed.