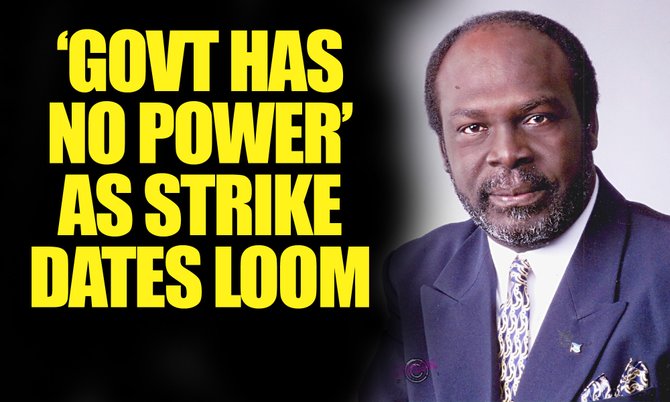 By SANCHESKA BROWN
Tribune Staff Reporter
sbrown@tribunemedia.net
TRADE UNION Congress President Obie Ferguson said yesterday there is "nothing" the government can do to stop the "withdrawal of labour" of hundreds of unionised and non-unionised workers in the coming days.
Speaking with The Tribune, Mr Ferguson said a mass rally tonight will inform the workers why the union has decided to strike and also to decide on which days the strike will be called. He suggested there would be two to three days of stoppages.
He said it is "unfortunate" that it has come to this but after years of trying to get the government's attention, it seems as though it is necessary for "Black Tuesday" to happen again.
"There is nothing the government can do to stop us now. What can they do? We have been sending them letters from 2012 and none of our issues have been worked out.
"The idea is very simple: we have tried over and repeatedly to make the point that the Industrial Relations Act and the Employment Act as it stands is not progressive, it creates ambiguity and its a minefield, in my opinion, for unnecessary litigation. There are a whole range of issues that need to be addressed," Mr Ferguson said.
"The only thing the government seems to understand is if we close the country down. That's the only time they wanna talk and we wanted to talk from 2012. So at this point meeting with the minster is not going to help us. It is too late for talk, what could they do? They want to see how much people we going to get out there and we will show them.
"The purpose of this meeting is to inform the workers as to what the issues are and for them to understand why there needs to be a recess of about two to three days. We will also make the determination tonight when they will strike. So this withdrawal of labour will involve all unions, all workers, this is not just a union thing. This work stoppage will involve everyone."
The national rally will be held at St Gregory's Anglican Church at 7pm. Mr Ferguson's TUC covers some 20-plus trade unions with a collective membership of 15,000 workers across the Bahamas.
Mr Ferguson said one of the union's unresolved issues is the definition of a work week as it relates to vacation days and sick days. 
He said: "The act defines a work week as seven days; there is no provision for a five-day work week but when an employee takes a vacation they are given five days and not seven. According to the Employment Act the employee should be getting seven days and not five so it creates a problem. If the employee is getting a week's vacation or taking a sick week they should be paid for seven days as opposed to five, so these are some of the things we are going to talk about."
Labour Minister Shane Gibson said if the union is determined to strike the government will not stand in the way of democracy. "If that's what they want to do, then that's what they will do," he said. "They told you we can't stop them but we weren't trying to, not in this democratic nation. Anytime you hear about persons withdrawing their labour you think about the negative impact. We understand what they want to and if it was my choice, I would prefer that work not be interrupted in the country."
According to Mr Ferguson there are pending industrial agreements for The Bahamas Nurses Union, Bahamas Doctors Union, Bahamas Educators Managerial Union, Bahamas Hotel Catering and Allied Workers Union, Bahamas Customs and Immigration and Allied Workers Union, Commonwealth Hotel Services and Workers Union, Bahamas Water and Sewage Management Union, Electric Utility Management Union, Bahamas Air Traffic Controllers and The Bahamas Hotel Managerial Association.