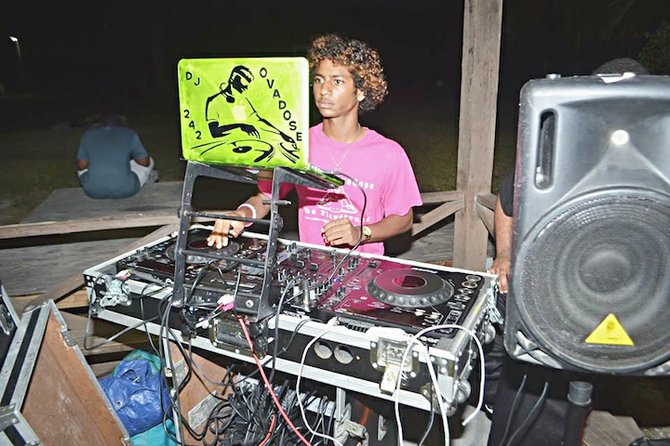 By LESH
Tribune Features Reporter
acadet@tribunemedia.net
LIVING proof that there is some truth to the old saying, "Age ain't nothing but a number," 13-year-old Jasper "DJ Ovadose" Thomas.
The Nassau native started off in this field at the age of 11 while on a trip to Florida. His cousins introduced him to a computer mixing programme and from then on he has constantly been perfecting his craft.
At just 12 years old, he created his very own online radio station called 'Ovadose Radio', which got a huge following among his peers.
With his popularity growing, Jasper's father, Ian Thomas, who is a marketing representative, introduced his son to a local radio programming director who saw something special in this young man and decided to take a chance and allow Jasper to apprentice with seasoned radio personalities.
As DJ Ovadose, Jasper was then given a two-hour mixed music segment at which he excelled. These breaks afforded to him new opportunities, on which he jumped on with no hesitation.
Jasper and his older brother Jefferson started their very own marketing and promotions company called Prezidential Productions, offering products and services such as deejay servicing, a "Team Ovadose" T-shirt line, hosting teen dances, working along with up and coming artists, videography and photography, event promoting. The brothers are now also in the process of offering their very own water and jewellery line.
Speaking about his deejay name, Jasper said it was Jefferson that gave him the name "DJ Ovadose" due to the fact that he always enjoyed listening to music and 'overdoing' it.
One of most memorable experiences, Jasper said, was when he was invited as a guest deejay at Atlantis's Club Crush for the 2014 New Year's Eve Party.
The Leadership Academy home-schooled student said his second favourite experience was at Ryan Bellot's Sweet Sixteen Birthday Bash, where he rocked not just the kids but the adults as well.
Even though his age may limit his deejaying experience, Jasper said he has nothing to prove to other disc jockeys, because he would like to be recognised for his talents and abilities, as opposed to his age.
"I admire and respect each and every deejay that is senior to me. Yes, there are a number of deejays that I look up to, but I don't want to single out anyone in particular. They all bring something different to the industry," said Jasper.
He said his ultimate goal is to have a career in music, and if deejaying turns out to be the vehicle that helps him reach his destination, then he will continue on this path.
Jasper said he also wants to continue to work along with his brother, start a record label and secure enough equity to open one of the Bahamas' hottest night clubs that will appeal to a wide range of party-goers. The brothers both know it's a long road ahead of them, but with patience and drive they realise that anything is possible.
"This is where I differ from all other young deejays; my style is versatile. I'm a rake n' scrape, hip hop, reggae and old school deejay, but now I'm venturing into electronic dance music. However, I think that Bahamians are so influenced by outside music. This has left the door open for so many foreigners to come in and make money. I think we need more government-sponsored programmes geared towards young people so that our culture will not be lost," the teen said.
Jasper said he is on a personal mission to make Bahamian music cool to young people.