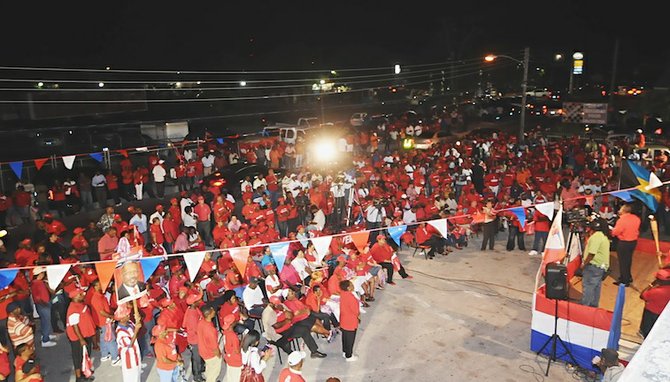 By LAMECH JOHNSON
Tribune Staff Reporter
ljohnson@tribunemedia.net
THE FREE National Movement voiced their displeasure at a street rally last night over what they claimed was an "injustice" done to party chairman Darron Cash.
Hours before Mr Cash's expected constitutional motion before the Supreme Court seeking redress for the violation of his constitutional right to privacy, a number of his colleagues took to the podium outside the party's Mackey Street headquarters to voice their concern about the "threat to democracy."
Senator Heather Hunt said to scores of supporters last evening that "injustice anywhere is a threat to justice everywhere."
"What happened to our Chairman, Darron Cash, last week is an indication that this power-hungry, self-interested government will now stoop to Gestapo-like tactics to intimidate and threaten the FNM," she claimed.
"It cannot be acceptable that the police can enter a private citizen's home and demand the turnover of personal items like computers and cell phones without clear legal cause. We must demand respect and observance of our right to privacy."
"Who authorised this invasion of our Chairman's home? On what legal authority did they enter his home and remove his personal possessions? Someone must answer," she demanded.
Peter Turnquest, the MP for East Grand Bahama, called it a "very sad and scary time in our country."
"We meet at a time," he told supporters, "when our democracy is being threatened, when our citizens are being intimidated, spied on, unfairly targeted, harassed and detained."
Last Thursday police raided Mr Cash's home, seizing two laptop computers and a cellular smart phone belonging to him.
Mr Cash's two small children were reportedly whisked away by the family's housekeeper in an attempt to shield them from the dramatic ordeal which came as a result of an ongoing investigation into operations at the Bank of the Bahamas (BOB).
National Security Minister Dr Bernard Nottage has since denied having any prior knowledge that police planned to execute a search warrant of the FNM chairman's home.
Last night St Annes MP Hubert Chipman responded to Dr Nottage's denial of any knowledge regarding the incident.
"The Minister of National Security claims he had no prior knowledge of the search warrant and the Commissioner of Police was out of the country," he noted, further questioning: "Who is running National Security? Who gave the order?"
"Bahamas Uncensored claimed that if the PLP were in Opposition, they would have been incensed and would have agitated to the end. Well the FNM holds that same position and we will agitate to the end," he added.