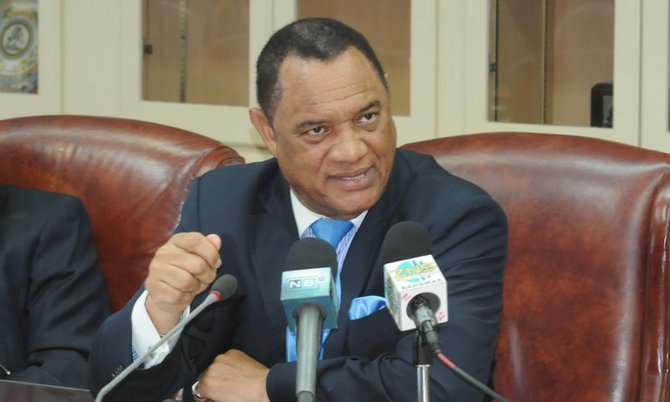 By SANCHESKA BROWN
Tribune Staff Reporter
sbrown@tribunemedia.net
PRIME Minister Perry Christie said yesterday he does not regret the "murder" billboards his  administration posted prior to the 2012 general election but if he had the choice to do it again, he wouldn't.
In the run-up to the general election, the PLP erected the billboards in tourist areas and other areas of New Providence highlighting the murder problem under the FNM administration.
The billboards read "Under the FNM government 490 plus murders."
Now, on the anniversary of their second year in government, Mr Christie said he has "accepted and acknowledged" that crime is "a matter for all" not just the government.
"I think we must all learn in the light of our experiences. I passed the stage of whether there is regret, but if I would do it again, the answer is no. You do not regret, you move on and you learn. I think tonight you will find the Free National Movement will speak on crime and they may well be unsundry in their language: will they regret it?
"I don't know if that will be the question you ask them, but the point is we have accepted, acknowledged and you have heard Dr Nottage present today that crime is a matter for all and he expects everybody to man up on this issue and that we must move forward," he said.
"So the best I can tell you is if were faced with the same circumstances and I had to make the decision I would not do it again."
However, Minister of National Security Dr Bernard Nottage said there has been a "systematic reduction" in crime and murders since the PLP came into power.
While acknowledging that the level of crime is still unacceptable and "too high", Dr Nottage said he is satisfied with the work the government and the police have done this far.
However, he said, crime is not something that can be fixed overnight and it will take "time" to see significant progress.
"Overall there has been a systematic reduction in crime. This year for example between January and the end of April we have had a reduction in all phases of crime in the country both against people, except with a slight increase in the numbers of rape, and in crimes against property - that is housebreaking stealing, stealing from vehicles - have been reduced.
"In New Providence there has been one less murder than there was last year and I single out murders because murders create concern among the population. It is something that we are most concerned about and if we are able to reduce the amount of murders per year I think that will be a tremendous relief to the average person in our country," he said.
"The truth is that crime requires a lot of different strategies and we have, over the last several months, been introducing a number of strategies we think will work. But when it comes to the root causes of crime I am satisfied and research has shown that family dysfunction is the basis for a lot of the crime.
"As much as we like to talk about it and criticise ourselves for it, the fact is crime is not something that can be fixed overnight and you may say two years is a long time and I agree with you. I spend every awake hour strategising, discussing and meeting but it will take a long time. The truth is we are making progress, significant progress and I am personally satisfied that we are on the right track."