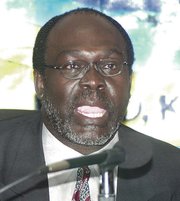 By KHRISNA VIRGIL
Tribune Staff Reporter
kvirgil@tribunemedia.net
HUNDREDS of Bahamian workers are on high alert as they await a decision from union executives as to when a three-day strike will start.
Last night, Trade Union Congress (TUC) president Obie Ferguson lamented the government's failure to meet with unions to hash out a laundry list of matters that mainly affect public service employees.
When asked if he could confirm when the stoppages would occur, Mr Ferguson remained tight-lipped on a time frame. However, he insisted that the unions had no choice but to withhold labour in protest of two years of "impotence" from the government on pressing concerns.
He was speaking to The Tribune following a rally where scores of workers from several different unions gathered as a symbol of solidarity and in hopes of gaining the attention of the Christie administration. The meeting was held at St Gregory's Anglican Church at Carmichael Road.
"All of the unions are on high alert," Mr Ferguson said, "they were all here tonight so what we are now going to do is compile a listing of all of the issues because you don't want to be repetitious. We are going to consolidate our resources and make it very productive. Then I think you would see us moving forward.
"The government has refused to meet to discuss the issues that we are talking about because as you can see there is a litany of issues that ought to be dealt with in the Employment Act.
"But they have done nothing. We filed the action from 2012 and they did nothing about it. So we have no choice everything."
On Monday, Mr Ferguson told The Tribune that the mass rally would inform the workers of not only why the union decided to strike, but decide which days the strike will be called. He suggested there would be two to three days of stoppages.
At the time he said: "The only thing the government seems to understand is if we close the country down. That's the only time they wanna talk and we wanted to talk from 2012. So at this point meeting with the minster is not going to help us. It is too late for talk, what could they do? They want to see how much people we going to get out there and we will show them."
Unions including the Bahamas Public Services Union (BPSU), Bahamas Educators Management Union (BEMU), Bahamas Nurses Union (BNU), and the Bahamas Customs Immigration and Allied Workers Union (BCIAWU) among others attended.
The meeting also saw representatives from both the Free National Movement (FNM) and Democratic National Alliance (DNA).