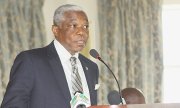 By KHRISNA VIRGIL
Tribune Staff Reporter
kvirgil@tribunemedia.net
NATIONAL Security Minister Dr Bernard Nottage has branded as "foolish" FNM deputy leader Loretta Butler-Turner's assertions that the government is spying on Bahamians.
While addressing scores of FNMs on Tuesday during a party rally, Mrs Butler-Turner insisted that the National Intelligence Agency (NIA) seemed to be a threat to the Bahamas' democracy and independence.
She told supporters that the agency appeared to have no legal standing but seemed to be engaged in domestic spying on the Bahamian people. She made the claims in view of the fact that there has been no legislation brought to the House of Assembly to set up the agency.
But as reporters questioned Dr Nottage yesterday, he denied that the government was monitoring the public's emails, phone calls and text messages.
When told that the basis of Mrs Butler-Turner's comments was the Christie administration's failure to bring legislation to the House for the NIA, Dr Nottage became defensive. It was then said by The Tribune that Bahamians had no idea of what was happening with the agency.
"How does she know that? What does she mean? What you mean nobody knows what's going on with it? I have an idea of what's going on. But I don't care to deal with that now. I am not checking anybody's private business. We are after criminals," Dr Nottage replied.
Later in the afternoon session of the House of Assembly, Dr Nottage said he was well aware of what was going in the Ministry of National Security.
"They make these assertions in order to attract a crowd. They are telling lies and it is not becoming of a Member of Parliament, nor is it becoming of a deputy leader."
Mrs Butler-Turner demanded that the Speaker of the House Dr Kendal Major retract the comments using the word "lies". But Dr Nottage insisted that "lies are being told about me."
During the rally, Mrs Butler-Turner said: "What we may now have is a possible illegal agency engaging in spying on the Bahamian people, possibly listening to our telephone calls, reading our texts and emails, gathering information on God knows who and for God knows what.
"What is the legal standing of this domestic spy agency and network? If it has no legal standing, how is it being funded? What exactly is the budgetary authority for this agency?"
Mrs Butler-Turner said that attached to the agency were several uniformed branches, including the Royal Bahamas Police Force (RBPF), the Royal Bahamas Defence Force (RBDF), and both the Customs and Immigration departments.
Former RBDF commodore Clifford "Butch" Scavella heads the NIA. She further questioned the type of information being collected.