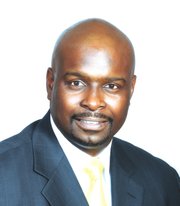 By RASHAD ROLLE
Tribune Staff Reporter
rrolle@tribunemedia.net
ENVIRONMENT and Housing Minister Kenred Dorsett dismissed concerns yesterday about possible dredging at Buress Cay, Grand Bahama.
Seeking approval from the government for their project,  "developers" have recently hosted town hall meetings in the area to address residents' concerns and to raise support for the dredging, which would be done in search of aragonite.
Mr Dorsett, however, said scientific research would determine how the government proceeds with their application.
The Minister said: "The purpose of this press conference is, one, to address certain misinformation that may have been placed in the public domain in relation to an application that has been submitted to the government in relation to the possibility of aragonite mining in the East Grand Bahama area or the cay off East Grand Bahama.
"My colleague, the minister responsible for Grand Bahama, has indicated that certain statements were made at a recent meeting on East Grand Bahama that might possibly give the impression that somehow the government has approved aragonite activities on Buress Cay and so I want to set the record straight in that regard and indicate with very clear and straight terms that no such approval has been given by the government of the Bahamas."
Mr Dorsett said after the developers' application was reviewed by the Bahamas Environment Science and Technology (BEST) commission, the commission determined that the company has provided insufficient information about the environmental impact of their proposed project.  
"I also want to make it very clear that the government recently approved in principle a marine protected area in East Grand Bahama which happens to border this particular cay. So we are very cognisant of the importance of the marine area in East Grand Bahama, not only just to those persons of the East Grand Bahama community, including the residents and business owners but when you also look at the spawning aggregations for species of fish from Abaco to East Grand Bahama it's a very important marine area," he said.
"And so decisions of this nature will be based on science and we do not have the scientific information before us to make a decision in any shape or form. But it is not a matter that this government takes lightly. I do understand that the developers have been having some town meetings which is their right, they have indicated what it is they have applied to the government for, but in no uncertain terms the government has not approved any aragonite activity in the area.
With respect to the matter, Mr Dorsett said: "As far as we're concerned, the environment will reign supreme with any decision that we make."