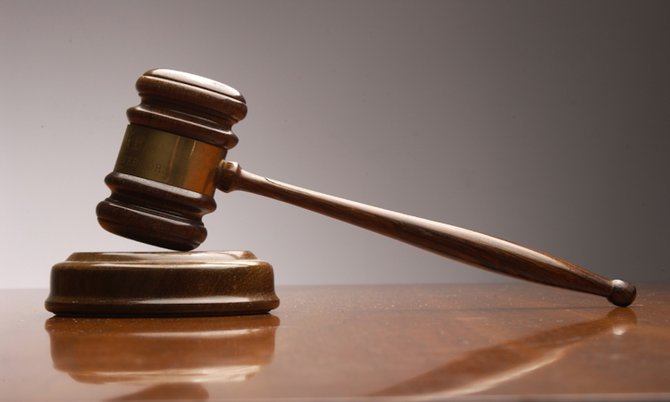 By LAMECH JOHNSON
Tribune Staff Reporter
ljohnson@tribunemedia.net
OSCAR Ingraham denied being a predator and rapist yesterday, moments after telling a jury that he was with his girlfriend the night a woman was raped during an island-wide power outage.
It was a tense session of court when Ingraham opted to give sworn testimony as opposed to remaining silent to the case the prosecution had brought against him.
He had to be warned repeatedly about his rambling during his defence and not directly answering questions put to him during cross-examination.
After taking the oath, the rape suspect said that on the evening of June 28, 2012, when he was with his girlfriend at a cousin's house, he had received reports that police had placed a wanted ad out for him.
"I went to the police station after I was told of this and when I reach in there, the officers said I would have to be arrested," the jury was told.
Ingraham told the court that Central Detective Unit officers put him in an identification parade. But he got the impression that it did not go the way the officers wanted as they then escorted him in handcuffs to a separate room where they proceeded to make him agree to sign statements of which he had no knowledge.
Ingraham said his feet were shackled and they placed a bag over his head while beating him about his body.
"Where the gun?" he said they asked, "I say 'officers, I only see gun when I see y'all or on TV'."
The defendant said they accused him of rape, despite his protests against the accusations.
Ingraham, 30, of Claridge Road, faces charges of burglary, armed robbery and rape in the incident that occurred between 11pm on May 29 and 5am on May 30.
It is alleged that he broke into the woman's western New Providence home and robbed her of $165 cash and a $200 Nokia cell phone before sexually assaulting her with a gun to her head.
Ingraham has denied the charges, against which he opted to defend himself.
Darell Taylor and Raquel Whyms are prosecuting for the Crown. They intend to prove the charges through DNA evidence.
At the start of the trial, the jury heard from the complainant of how she, on May 29, 2012, had left church around 7:30pm and gone home to watch television when the electricity was cut three hours later.
Having changed into her night clothes she fell asleep in her bedroom where she later "felt a presence", which she likened to the feeling of being "hagged" by spirits.
She realised someone was actually in her home when a long hand came across her mouth and despite her pleas for him not to rape her after she told him she had no money, he sexually assaulted her with a gun to her head.
However, the complainant was unable to identify her attacker other than the fact that he was lean and had a cornrow hairstyle.
The analyst said that the minor contributor she found from the tests she conducted were not sufficient to obtain a full DNA profile.
In cross-examination, when asked if his blood sample had been one of the items she received in July 2012, she said no. "Not in this case number," she added.
Yesterday, Ingraham said that his evidence was "I' ain rape no one."
"They saying DNA, that can't be possible. I ain do nothing," he emphasised, adding that he was being conspired against.
In cross-examination, prosecutor Raquel Whyms asked Ingraham if he were a twin. The accused said he was not.
She also asked him about his profession and he answered that he was a jet ski operator, "off and on" for two years,
"Did you wear cornrows in May 2012?" the prosecutor asked.
"I wore my hair in different styles," he replied.
"Including cornrows?" the prosecutor probed further. Ingraham answered that he could not say.
"You targeted the complainant, didn't you?" Whyms was asked. Ingraham said he did not know what she was talking about.
"You targeted her and made yourself very familiar with her property," the prosecutor suggested.
"And I say your suggestion is wrong," Ingraham replied.
The prosecutor suggested to him that being a jet ski operator, he was also familiar with western New Providence.
"I'm familiar with west, east, everywhere," he answered, before going on to deny her subsequent suggestion that he was in the area of Blake Road on the night in question.
"I'm suggesting to you you're a predator," the prosecutor said. "I'm a predator?" Ingraham asked with a shocked expression. "I' ain no predator and I ain no rapist. Your suggestion is wrong."
"And in addition to being a predator, you're a coward who waited for the entire island of Nassau to have a blackout to unleash yourself on the complainant," the prosecutor said. "I do not agree," he replied. The trial continues.