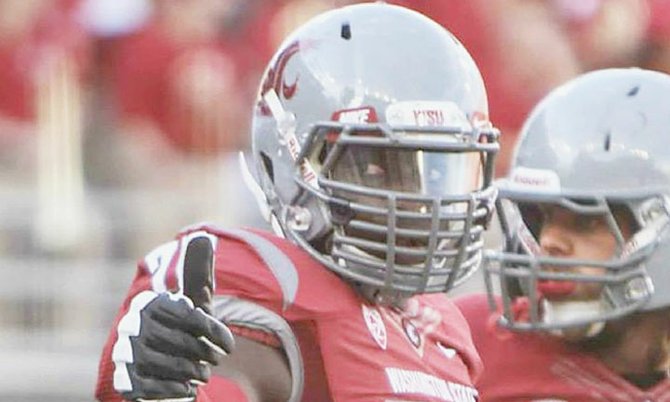 By RENALDO DORSETT
Sports Reporter
rdorsett@tribunemedia.net
After overcoming a plethora of obstacles throughout his career, it took just one season to convince National Football League franchises that Rico Forbes has the ability to maximise the potential scouts first witnessed years ago and play in the NFL.
Forbes has been signed as an undrafted free agent by the Green Bay Packers and will report for organised team actives and rookie mini-camp tomorrow in Green Bay, Wisconsin.
After going undrafted through seven rounds of last week's NFL Draft, Forbes was contacted by several teams interested in signing the 6'6" 305-pound offensive lineman.
"No doubt it's a great opportunity. I see it as a blessing and right now I am just eager to go out there and make the best of my opportunity," Forbes said. "It is what I always envisioned when I first came to the US to play football in Mr [Frank] Rutherford's programme. When he brought me into the programme the goal was always making it to a professional team. It is what I have been working towards seeing for years and now there is a chance to make it happen."
Alonzo Highsmith, senior personnel executive for the Packers, said the front office has high hopes for Forbes as camp approaches.
"At this point he has a legitimate shot to make this team. It's all about coming in and competing," he said. "He's still raw and still learning how to play the game but we were impressed with his workouts and what he was able to do in just one year on the field at Washington State.
The Packers' organisation has been touted as one of the NFL's best at finding key players in undrafted free agency, retaining 24 per cent of such players, according to SB Nation.
In the past, the Packers have found such major contributors in the undrafted free agency pool, including Sam Shields, Cullen Jenkins, Jarret Boykin, Don Barclay, and Evan Dietrich-Smith.
Forbes' path to the NFL has been filled with a number of obstacles since he left the Bishop Michael Eldon School in Freeport, Grand Bahama, to join the Frank Rutherford Elite Development Programme in Houston, Texas.
He attended St Pius X in Houston, Texas, where he earned a varsity letter as a junior as he helped the team to an 11-2 record and captured Texas Association of Private and Parochial Schools (TAPPS) D1 state title.
In his senior season he was unable to play, suffering the first in a series of injuries and graduated from Christian Life Center Academy in Houston.
Despite the injury he was ranked No. 61 nationally among defensive ends by Scout.com and signed a letter of intent to join the Baylor Bears in 2009.
He was not cleared by the NCAA Clearing House and played two seasons at Navarro College in Corsicana, Texas.
As a sophomore he helped Navarro to an 11-1 record and the National Junior College Athletic Association national championship.
He found his way back to NCAA Division I when he enrolled at Washington State in 2011.
Forbes participated in spring drills during his redshirt season and eventually missed the season with a leg injury suffered during fall camp.
In his senior season, he earned a varsity letter after appearing in all 13 games, earning five starts at right tackle.
Along with the challenges on the field, Forbes had to overcome the death of his mother and brother during his tenure in the US, chasing his dream on the gridiron.
"Going through the disappointments made me appreciate where I am right now a whole lot more. Me just being here means the world. To make it back to DI at Washington State, even though I was only able to play for a year it had a great impact on myself and my career," Forbes said. "The Packers were the first team to give me that call and it just so happened to be the best situation for me. Right now it is all about competition. It is all about that competition, getting out there and proving who wants it more."
Forbes' pro day performance at Washington State placed him on the radar of several franchises. He ran a 4.97s 40-yard dash, performed 31 repetitions on the bench press, recorded a 7.71s in the three-cone drill, 4.66s in the 20-yard shuttle and a broad jump of 8'05."
"I really did not have an outlet for it back in the Bahamas but football was something that I have always wanted to do," Forbes said. "The opportunity was not there so I was very appreciative of Mr Rutherford for guiding me through the process all these years. From the moment he saw me and brought me into the programme he instilled the confidence in me that I would be able to get here one day. I feel like we need more people with that belief and ability to make it a reality for a lot of other Bahamian kids out there."
Rutherford said of all the student athletes that have passed through the programme, Forbes' perseverance continues to stand out."
"This young man has a story to tell. For him to be at this point with an opportunity to compete at the highest level, after all he has been through is a testament to God and this young man's ability," Rutherford said. "He hasn't been able to play much because of all these issues, but through it all here he is and the Bahamian public should be proud of what he has accomplished and what he will accomplish."