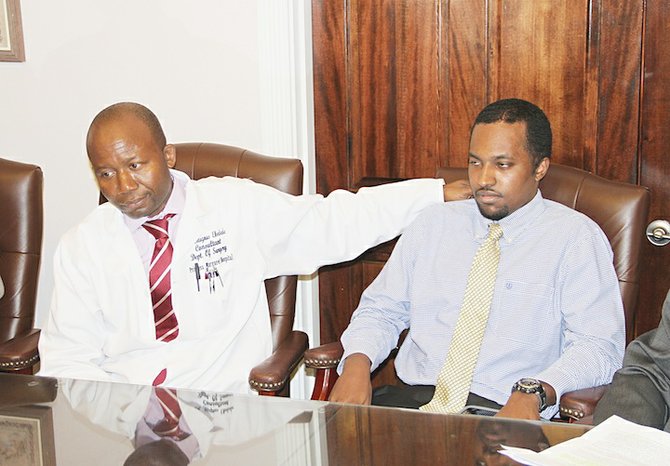 THE traumatic brain injury that Demont Mitchell sustained when his car ran into a wall on October 7, 2012, interrupted the young soccer player's dreams of becoming an accountant and abruptly ended his eight years with the Bahamas' national team.
It also turned out to be the springboard for the launch of the Mitchell‐Ekedede Brain Injury Foundation, established last year by Demont's father, accountant Matthew Mitchell, and Dr Magnus Ekedede, the neurosurgeon who saved Demont's life.
The foundation is a non-profit organisation whose primary objective is to reduce the incidence of Traumatic Brain Injury (TBI) and Acquired Brain Injury (ABI) in the Bahamas through brain injury awareness, education, research, prevention, treatment and advocacy.
TBI is an injury to the brain caused by trauma such as a blow to the head. It differs from ABI, which describes any other brain injury typically brought on by factors such as stroke, tumour, brain aneurysm or oxygen deprivation.
At the foundation's launch yesterday Mr Mitchell, who works for international accounting firm Baker Tilly Gomez, said "there is a tremendous range of emotion that a parent experiences upon being informed that one's child has undergone an injury of this nature. Very quickly, I came to the realisation that this would change my son's life. It would change our family's life.
"Fortunately, we were able to see that this experience should also be used to change for good the lives of other people who find themselves in a similar situation. The foundation will allow us to use our experience to bring together people with brain injuries, their families and friends, and concerned allied health professionals to improve quality of life following a brain injury."
Millions of individuals worldwide incur brain injuries each year with significant consequences for their families. In the Bahamas, the statistics regarding TBI are sobering. According to Dr Ekedede, with Mr Mitchell the foundation's co-founder and trustee, 624 people sustain a traumatic brain injury in the islands each year, with the 2012 incidence of recorded TBI 47 per cent higher than that recorded in 1997.
With the average annual total cost of hospitalisation of ICU ventilated TBI patients in the Bahamas conservatively estimated at $7.56m (not including neuro‐rehabilitation), a key goal of the foundation is to provide more immediate and affordable access to neuro‐rehabilitation through the construction of a world-class facility in the Bahamas. Such a facility would provide local out‐patient capabilities for patients and their families, thereby reducing expenses and allowing patients to return to the comfort of their homes instead of having to seek care in the United States, principally in South Florida.
"We will be calling on men and women of goodwill to assist us in this venture," said Dr Ekedede, the chief consultant of neurological surgery at Princess Margaret Hospital and Doctors Hospital. "Brain injury has no respect for sex, age, colour or social status and can be a devastating illness in many aspects not only to the patient but to the country at large. This foundation came about as a concrete means to providing the patient and their loved ones with a more holistic healing and helping the public at large through providing awareness, training and the infrastructure for the treatment of these injuries. It is the wish of all the founding trustees that our people take brain injury seriously.
"Demont Mitchell's accident ultimately was the catalyst that fuelled the launching of this foundation. His story is touching and compelling and we wish him a complete recovery."
The foundation also has plans to develop a sustained public awareness campaign designed to prevent TBI and ABI among at risk groups.