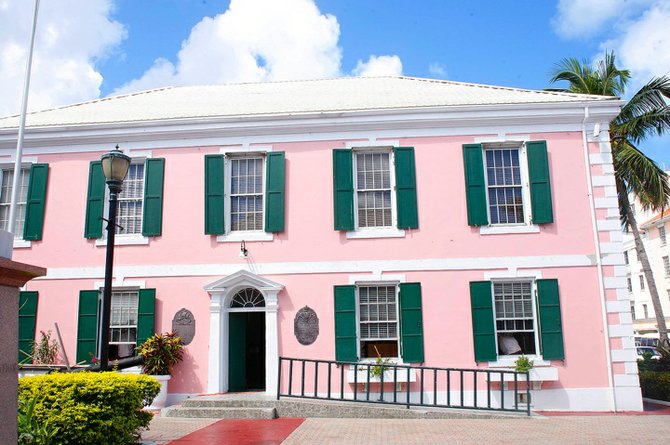 By KHRISNA VIRGIL
Tribune Staff Reporter
kvirgil@tribunemedia.net
DESPITE the country's significant fiscal constraints, a government-appointed select committee recommends that the Christie administration build a new House of Assembly complex during this parliamentary term, National Security Minister Dr Bernard Nottage announced yesterday.
However, two FNM MPs who sat on the committee – Central Grand Bahama MP Neko Grant and St Anne's MP Hubert Chipman – protested saying that while it was generally agreed that the current Parliamentary complex was greatly inadequate, the construction of a new facility is not feasible at this time.
The select group further recommended an increase of salaries for MPs and the Deputy Speaker. It was noted that his wages should be adjusted to reflect the duties and requirements necessary to abandon normal professional work.
As it stands, the House Speaker has an $80,000 per year salary while his deputy receives $32,000. An MP's salary is $28,000 a year. No projections were made for the new increase or how much it would cost taxpayers to construct a new Parliament.
"We agreed in principle that a Parliamentary Complex is needed," Mr Grant said. "We also made note that we could not afford it at this time, but we did not object to a competition for the design going up." 
Mr Chipman added: "That's where we were because we didn't agree to that. There is no way."
"We agreed that they should get the ball rolling in terms of drawings. But not only that at the end of the day a site has not even really been decided. But we did not conclude this term. We did not. We didn't reach that point."
Dr Nottage further pointed out that there had not been an increase in Members' salaries since 1988. "Your Committee took note of the fact that a Commission chaired by Justice Joseph Strachan was currently reviewing the salaries of members and it was hoped that some action on Members' salaries would be taken following the tabling of that report."
Considerable time was spent discussing a constituency office allowance, he said. The committee suggested that monthly allowances of $1,500 be increased to $2,500.
"It was agreed that the $1,500 monthly allowance was insufficient. After paying staff, rent, utilities and other recurrent commitments the $1,500 could not cover those expenses. One suggestion that was discussed was for the Government to pay the cost of rental office accommodation and to cover the cost of one staff member."
The committee also recommended that the policy that determines travel by members be enshrined in law with members who represented multi-island constituencies being permitted to travel to each island at least once a month and receive an allowance for up to three nights for each island.
Other suggestions included:
• benefits awarded to the Leader of the Opposition should be established in law.
• the salaries of the Clerk and Deputy Clerk of the House of Assembly should be fixed at the Permanent Secretary and Deputy Permanent Secretary levels respectively.
• benefits awarded to former Prime Ministers be established in statute law.
• insurance coverage should include coverage of Members' spouses and should continue for Members after their Parliamentary service had ended.
• a Duty allowance be paid to all Members of Parliament.
• a grant to be determined should be made to every political party represented in the House of Assembly.
• the Speaker of the House of Assembly be made a corporation sole and all of the House property, books, documents and artifacts be vested in the Speaker.
Dr Nottage served as the committee's chairman while Fox Hill MP Fred Mitchell, Bamboo Town MP Renward Wells, Neko Grant, Hubert Chipman, South Beach MP Cleola Hamilton and Theo Neilly, North Eleuthera, served on the committee.