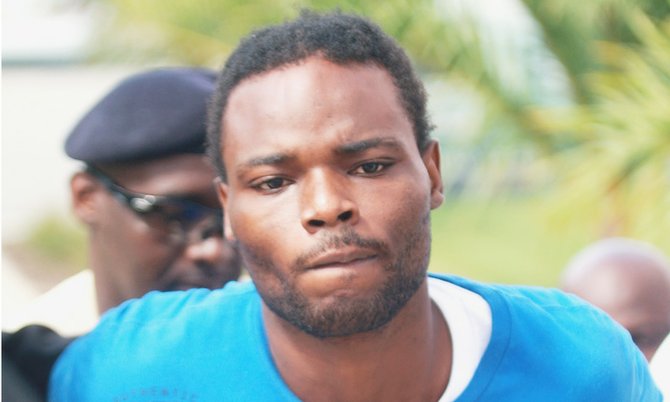 By LAMECH JOHNSON
Tribune Staff Reporter
ljohnson@tribunemedia.net
OSCAR Ingraham will face sentencing next month having been unanimously convicted yesterday by a Supreme Court jury of the home-invasion, armed robbery and rape of a woman on the night of an island-wide power-outage. At that hearing on June 19 he also will be sentenced for another rape two years earlier.
Ingraham, who was found guilty (9-0) on all three charges yesterday, seemed disbelieving when the forewoman announced the verdict, which determined that he did rape the complainant between 11pm on May 29 and 5am on May 30, 2012, because of the DNA evidence that placed him at the scene.
"It's a real God world," he said twice before muttering unintelligibly.
After the jury was discharged Ingraham was informed by Justice Carolita Bethell that he will not only be sentenced for this case, but also for his conviction in March on the same charges concerning the rape of a woman in her western New Providence home on February 28, 2012.
Ingraham, according to evidence in the March trial, broke into the home of two foreigners with Bahamian status, and robbed both of them of cash, cell phones, travel documents and government issued identification and work permits, valued at $3,325. The woman in western New Providence was sexually assaulted.
In the trial that finished yesterday, evidence revealed that he broke into the woman's western New Providence home and robbed her of $165 cash and a $200 Nokia cell phone before sexually assaulting her with a gun to her head, despite her pleas for mercy.
Darell Taylor, lead prosecutor in both cases, spoke to The Tribune following yesterday's verdict that was returned a little under two hours after the jury was excused by Justice Bethell to deliberate on the evidence in the case.
"He's scheduled to be sentenced on the 19th of June for both matters," the prosecutor said. "He was convicted in March and this is the second conviction and so, on the 19th of June, the judge will sentence him on both having ordered a psychiatric report in addition to the probation reports. So we will see what happens on that date," she said.
She could not say what the Crown was asking for concerning imprisonment, adding that she would have to seek instructions from her superiors at the Attorney General's office.
When asked about the status of the complainant, Taylor said "for any complainant having to relive the experience is always horrendous. So I think having to put them through that, you have to be very careful with how you deal with the virtual complainants. But she held up very well in court when she relayed her story. The jury saw exactly what it was and returned a verdict accordingly," she concluded.
Ingraham has already indicated his intention to appeal the convictions having denied the allegations.