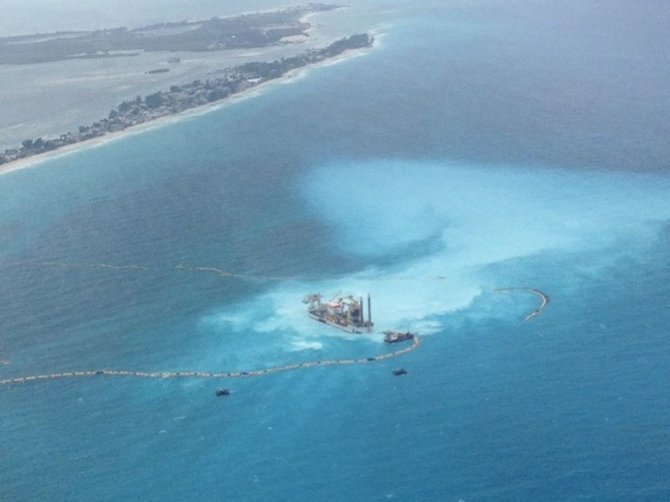 AERIAL photographs of the controversial dredging operation in Bimini over the weekend show a large plume of silt spilling beyond the protective curtains and spreading over the surrounding marine habitat.
Environmentalists return to the Court of Appeal today for a decision on their injunction to stop Resorts World Bimini from continuing with their development of a cruise ship terminal, 1,000-foot pier and man-made island.
Earthcare, the environmental group, said yesterday that the pictures provide "indisputable evidence with respect to the irreparable damage already done to the seabed area in just three days of dredging". This siltation, they say, will choke all of the surrounding benthic organisms including the extremely valuable endangered coral reefs.
The plume of silt is seen from above spreading south of the projected pier site and the turbidity caused will impact fishing and diving sites in both directions, experts said. The north current, influenced by the Gulf Stream, is picking up the silt and affecting pelagic fish and prime deep drop areas off the north coast of Bimini.
A decision on the injunction, sought by the environmental group Bimini Blue Coalition, is expected to made this afternoon. On Friday Justice Anita Allen noted that dredging activities – which started on Thursday – could continue over the weekend.
The Coalition has asked for dredging to be stopped amid concerns that Resorts World Bimini developers have not complied with a Court undertaking they had given. While the proposed construction has drawn fierce criticism from environmentalists government officials say the project will result in profound economic benefits for the country.