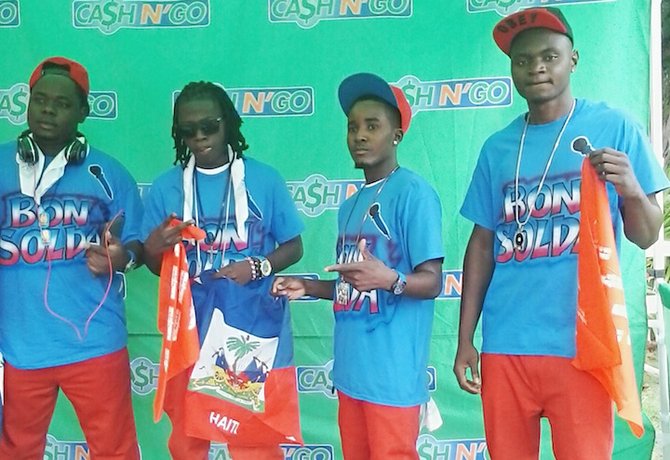 By JEFFARAH GIBSON and JESSICA ANDRE
HAITIANS are one of the most misunderstood subcultures in the Bahamas, however, through various celebrations held in Nassau over the weekend people gained a clearer perspective of who these people are and the significance of their fight for freedom.
Displaying the motto of Haiti, "L'Union Fait La Force", which means "Through Unity We Find Strength", Bahamians along with other cultures joined in commemorating Flag Day, which is observed on May 18.
Festivities kicked off at the Botanical Gardens on Saturday, drawing crowds dressed in Haitian flag colours and with stalls packed with crafts, native food and drinks as well as live bands and DJs.
Despite the inclement weather, hundreds of people flocked to the festival grounds to experience firsthand Haiti's culture, which was demonstrated through performances by artists like Phil Tidy, Bobo, 509 Boys, Shining Stars, Elite Musique, Lady Rose, Harry Alex and more.
One highlight of the festival was a comedy show featuring Haitian entertainer Daniel Fils-Aime, widely known as Tonton Bicha, who portrays a strict elderly man in his comedic acts. He is also known for his role in the Haitian film "I Love You Anne".
The national pride celebrations also continued with the third annual Papa & Son Promotions boat cruise and after-parties at various sports bars and lounges across the island.
Live entertainment during the festival was provided by Kompa Music.
According to Louby Georges, Haitian Flag Day committee member, the festival was an "overwhelming success" and one of the biggest held in the Bahamas since its inception.
"We had tremendous turnout despite the weather. We had Bahamians, Jamaicans and people from other countries showing their support. Before the festival we held educational campaigns so that people could learn more about the Haitian flag and its significance," he said.
Mr Georges said one the main goals of the celebration was to promote unity, a message he believes most people grasped.
"The Haitian flag is major part of black history, not just Haitian history. If we as Bahamians learned more about our history we would see the significance of celebrating Flag Day along with the Haitians. Unity was the message that we preached and we think that the message was grasped," he said.
While there was loads of fun to be had, Michael Telairin, a Bahamian of Haitian decent and host of the cultural show, said it was important, especially for young people, to be aware of the struggle Haiti fought to become an independent country.
"We need to educate ourselves more in this community that we live in. I am proud to be a Bahamian of Haitian descent. I am proud to know that I have two cultures that I can embrace. That is what we are trying to raise the awareness of with our young people, to be proud to be a Bahamian of Haitian descent and not forget what your mother and father have been through," Mr Telairin said.
"Many of them have crossed the seas to come here for a better way of life. And so when we celebrate this, many of ours are celebrating it in mind of the struggle that Haiti is going through, so we can inform Haiti that we are still with you and are praying for you, praying that you get your feet back together, to stand firm, to be able to be a country that can survive and help persons not to leave there homes, but to remain in Haiti. So it is only to celebrate that moment with them."
Mr Telairin also reflected on the early beginnings of the Haitian Flag Day celebration in the Bahamas and how it has grown since the time he started it at Victory Church of Nazarene in 2002 .
The celebrations quickly outgrew the four walls of the church and Mr Telairin along with his team made the decision to take the festival into the community.

"We no longer do it as a church, but as a community. So next month we are going to celebrate the Bahamian independence. Our aim is to see that the cultures embrace each other, to understand each other and not bring about any division. It will never be about division. I don't believe it will. Although persons are trying to bring that to the forefront, it is not to bring about division. It is about love, peace and harmony, and a sense of joy that Haiti did so much for black people and for their country," he told Tribune Arts and Entertainment.
In Haiti, Flag Day is a major national holiday celebrated with great fanfare throughout the country. For the country's citizens the national flag is indisputably a symbol of pride and is closely linked to a history of struggle for freedom.
While festivals are held around the world in cities where many Haitians reside, such as Miami, New York City, Montreal, Quebec and Paris, those at home engage in a number of activities to showcase their national pride through patriotic songs, dance competitions, concerts and more.
It is also custom for the country's president to give a speech in the city that gave birth to the flag, Arcahaie.