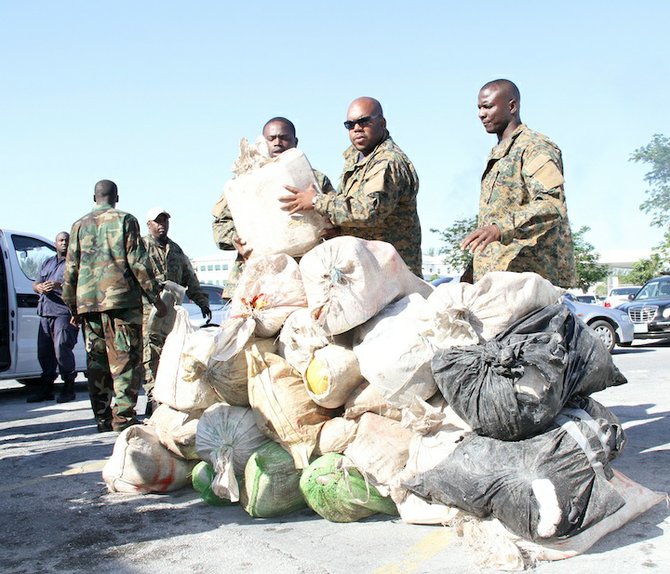 By SANCHESKA BROWN
Tribune Staff Reporter
sbrown@tribunemedia.net
FOUR men are in police custody after they were caught with $900,000 worth of marijuana early yesterday morning.
Police have now seized more than $9m worth of drugs this year and the increased drug busts are leading dealers to raise prices, police said.
A team of officers from the Drug Enforcement Unit (DEU), acting on intelligence, arrested the men, three Bahamians and one Jamaican, off Carmichael Road around 6am.
Officer-in-charge of the Drug Enforcement Unit (DEU) Supt Samuel Butler credited the public for this latest seizure.
"The team intercepted a white van in the area of Faith Avenue off of Cowpen Road," he said. "The van had 37 packages of suspected marijuana weighing approximately 607 pounds. The men, ages 32, 43, 48 and 53 were taken into police custody. This operation was driven by intelligence but mostly we were able to make this bust because of reports from members of the public."
So far for the year, police have confiscated more than $9 million worth of drugs.
Supt Butler said because of the success in drug seizures the market is shrinking and dealers are increasing the price of drugs.
"I'm not saying that the drugs isn't still out there, but it is drying up because of the drug busts. Marijuana usually sells for about $1,000 a pound but in the last few weeks or so the price has gone up to $1,500," he said.
Supt Butler said police do not believe the marijuana was grown locally and was "most likely" imported from Jamaica.
The men who were arrested were inside a vehicle owned by the company MIYA, which has a partnership with the Water and Sewerage Cooperation (WSC) to reduce water losses.
One of the suspects is an employee of the company who had completed an overnight shift which ended at 5am, a statement from MIYA said.  
"Due to the shift patterns currently in place to execute work in the field it is not uncommon for employees to have company vehicles at the conclusion of their shift. MIYA regards this incident as very serious and will cooperate fully with the law regarding the matter," the company said.
Supt Butler said good police work has resulted in multiple drug busts this year.
Last month, DEU officers seized $1.2 million worth of marijuana in Andros. The drugs weighed 1,200 lbs.
A week before, DEU officers also confiscated $7.5 million in marijuana plants in a field in East Grand Bahama.
There have been several other large drug busts in the country this year.
Supt Butler also credits the frequent seizures to the collaboration between the DEU and the DEA in the United States.