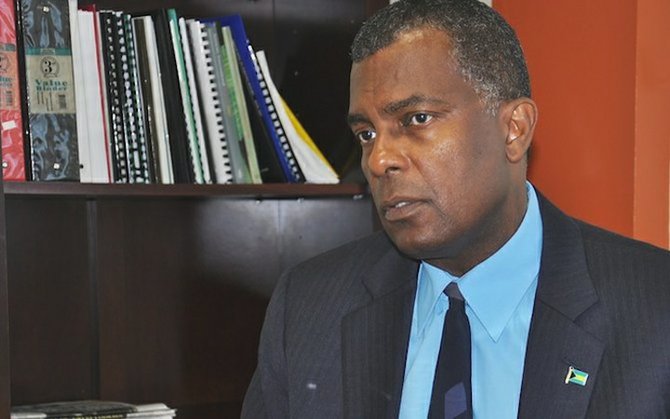 By KYLE WALKINE
Tribune Staff Reporter
kwalkine@tribunemedia.net
FOREIGN Affairs Minister Fred Mitchell yesterday defended his handling of the situation surrounding the recording of all cellphone calls in the Bahamas saying that meetings are being held at the "highest levels" to get to the bottom of it. 
Mr Mitchell was criticised after he flew to Guyana on Tuesday afternoon for an international conference despite mounting concerns of Bahamian cellphones being tapped by the US National Security Agency (NSA). 
On Wednesday, former Foreign Affairs Minister Brent Symonette said if he were still in the seat as head of foreign affairs, he would have already flown to the US to deal with the matter. 
Mr Mitchell said several diplomatic meetings have been held in the US, including the most recent when the head of the Bahamas' foreign service met the US deputy assistant Secretary of State in Washington. 
"That is the appropriate level," he said. "I am in constant communication with American officials on a daily basis."
According to Mr Mitchell US representatives have vowed to investigate the accuracy of information posted in an article on The Intercept, obtained from NSA whistleblower Edward Snowden. 
The US House of Representatives passed a bill yesterday, the USA Freedom Act, that would eventually see to it that the NSA destroy all call detail records that do not contain foreign intelligence information. 
Although the bill has been described by some as "diluted" and "watered down", it has also been credited for its potential to better protect the privacy of Americans.
As far as the same deletion of Bahamian phone calls is concerned, Mr Mitchell refused to comment saying, "I will not engage in any speculation."
The Bahamas Telecommunications Company (BTC) has since denied having any knowledge of phone tapping going on in the Bahamas. 
According to Mr Mitchell there is another high level political meeting planned at the Organisation of American States (OAS) meeting in Paraguay early next month. 
Yesterday, WikiLeaks, an online publication that releases secret government information, reiterated their promise to identify the second country whose phonecalls are being monitored by the NSA, despite warnings that the release of that name could result in deaths. 
Most recently China became embroiled in a dispute with the US over cyber spying after five of their countrymen were charged with the crime. The Tribune has contacted the Chinese Embassy in the Bahamas for comment; however, they refused and directed the newspaper to their government's website.