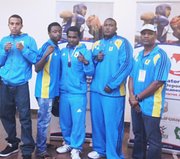 By BRENT STUBBS
Senior Sports Reporter
bstubbs@tribunemedia.net
THE Amateur Boxing Federation of the Bahamas will today be sending a four-member team to compete in the XVI International Jose 'Cheo' Aponte Boxing Tournament in Caguas City, Puerto Rico. It will be the first appearance for the Bahamas at the tournament.
The team is made up of Rasheed Williams, who will participate in the 64kg – Junior Welterweight, Ronald Woodside in the 56kg – Bantamweight, Godfrey Strachan in the 75kg – Junior Heavyweight and Keishno Major in the 91kg - Super Heavyweight.
The team will be coached by Andre Seymour, who indicated that all four boxers are primed and ready to compete.
"When we came from Mexico, we didn't stop training," Seymour said. "We knew that this tournament was coming up, so we just picked up the pieces and started training harder than ever. It's a big tournament, but all of our boxers are ready to compete this week."
The tournament is scheduled to run May 28-31 and will serve as a preparation for the upcoming Commonwealth Games in Glasgow July 23 to August 3 and the Central American & Caribbean Games qualifier in Colombia in August.
"We're looking forward to some good performances from our boxers and certainly some medals," Seymour said. "Two of our boxers, Carl Hield and Godfrey Strachan, have already qualified for the CAC Games during our last outing in Mexico earlier this month. They both came home with bronze medals and we want keep our team very active on the circuit in preparation for the big upcoming Games."
The Bahamas will be competing against boxers from the Dominican Republic, the United States, Mexico, Cuba, Barbados and Trinidad and Tobago.
While Hield and Strachan have already qualified for the Commonwealth Games, Seymour said when they return from Puerto Rico, Major, Williams and Woodside will be preparing to head to Colombia in July for the final leg of the qualifying round for the Commonwealth Games.