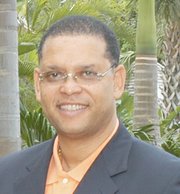 By KYLE WALKINE
Tribune Staff Reporter
kwalkine@tribunemedia.net
A TOP hotel executive doesn't believe the Bahamas' tourism industry will be affected by revelations that the US' National Security Agency (NSA) may be recording all cell phone calls in the country.
Baha Mar's Senior Vice President Robert Sands said yesterday that the allegations of cell phone spying probably happens to many other countries around the world. 
"We all live in different communities from different parts of the world where the government makes the best decision that's in the best interest of the sovereignty of its nation," Mr Sands said, when asked to comment on the allegations and the repercussions they may have on the millions of visitors who visit the country each year.
"It will have no impact on our tourism industry."
Mr Sands believes cell phone surveillance happens worldwide saying, " The Bahamas is not unique in this particular area."
On Monday, Deputy Prime Minister Philip Davis said the former government was "aware of" an arrangement made that would allow the NSA, through its MYSTIC programme SOMALGET, to tap all cellphone conversations in the Bahamas and store them for up to 30 days if anything pertaining to US intelligence is heard. 
The details of an investigation carried out by the US government into the accuracy of the information revealed by NSA whistleblower Edward Snowden has been concluded. The final report is expected to be sent to the Ministry of Foreign Affairs' permanent secretary this week, Mr Davis said. 
The permanent secretary has refused to comment on the investigation.  
FNM Leader Dr. Hubert Minnis has defended his party saying that they had no part in giving the NSA consent to record phone calls. 
He also demanded that the government stop shifting blame and release the facts of the investigation.
Claims that the US is monitoring cell calls in the Bahamas emerged last week in an article posted on Firstlook.org which reported that the NSA is "secretly intercepting, recording and archiving" the audio of every cellphone conversation in the Bahamas.
US Chargé d'Affaires John Dinkleman said on Monday that the relationship between the Bahamas and the US has "never been stronger" and that it is not affected by the public uproar produced as a result of the purported surveillance.
Mr Dinkleman would not confirm or deny the claims of cell phone spying.