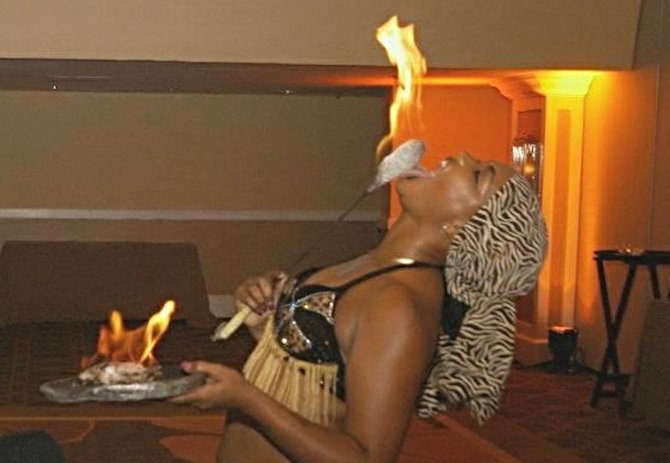 By JEFFARAH GIBSON
Tribune Features Writer
jgibson@tribunemedia.net
WELL-KNOWN Bahamian fire dancer and singer Angelique "Countess Pepper" Rollins is hard at work on her new album, "HUSH", which will demonstrate her versatility as an artist.
In the time leading up to the album's release, Countess Pepper will continue to entertain persons with her dynamic fire acts and new songs.

After a short hiatus from music, the multi-faceted entertainer released a new single, a reinterpretation of Cyndi Lauper's iconic hit "Time After Time".
"I am inspired by old songs and Cyndi Lauper happens to be my all-time favourite artist. My remix of 'Time After Time' has a soca/rake n' scrape flare, so I am sure my listeners would be intrigued," she told Tribune Arts and Entertainment.
The new album is expected to launch next year and features upbeat music that people can dance to, she told In Ya Ear.
"The entire album has something for everyone – it's jazz, soca, rake n' scrape, R&B, techno and slow ballads. Presently, I am working on some more song that will be featured on 'HUSH'.
In the upcoming months, Countess Pepper will also release a new collaborative single.
A special event will be held sometime in August to launch the new record where guests will enjoy singing and fire dancing, she said.
Countess Pepper said during her short break from music she took time to travel and focus on fire dancing and painting.
She is known as one of the most daring fire dancers in the Bahamas. She has entertained audiences worldwide with her dynamic acts, including lighting parts of her body on fire, lighting cigarettes from her mouth, spitting fire and crawling through a flaming hoop.
Countess Pepper's career in music began in the summer of 1999. At that time she released her first single called "Pepper Rock the Party", which was followed by the release of her remix of "Fever", which opened the door for her to land a number of gigs as a jazz singer. Showing her versatility, she released a rap single in 2009 called "You Want Me".
Countess Pepper also formed her own entertainment company called Angelique's Productions through which she teaches a small group of students the art of dance and modelling. She later renamed the company to Fame Entertainment.
A Freeport native, she has performed at almost every hotel on the island of Grand Bahama.
She has choreographed shows such as "Sizzle Fever Broadway" (1995), "All That Jazz" (1998), "Roots and Culture Native Show" (2002) and "Island Spice Cultural Show" (2010).