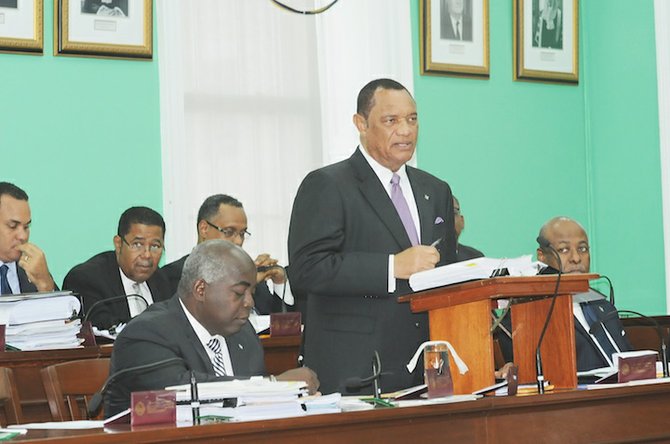 By TANEKA THOMPSON
Tribune News Editor
tthompson@tribunemedia.net
PRIME Minister Perry Christie affirmed his government's intent to regulate and tax web shops, telling the House of Assembly yesterday that whenever the proposed taxes on the underground sector are introduced, they will be retroactive to July 1 this year.
The government anticipates taxes from web shops to bring in a revenue intake of 0.14 per cent of GDP in the next fiscal year and beyond, Mr Christie said.
The bill to effect web shop regulation, an amended Gaming Bill, will be debated in Parliament once the 2014/2015 budget debate is finished, Mr Christie said.
Minister of Tourism Obie Wilchcombe, who has responsibility for gaming, told The Tribune that the government is considering taxing web shops at a rate of 15 per cent – a figure he said was proposed by the Ingraham administration.
The prime minister said web shop regulation and casino gaming expansion will give government more revenue and boost economic activity.
The government has engaged the firm AG Consulting to advise on how to properly regulate the web shop sector.
"It is expected that these comprehensive and necessary reforms will result in considerable benefits to the public purse and the Bahamian economy, the creation of many new jobs, a controlled number of web shop gaming operations as is the case with casino operations, and upholding of laws and international obligations in accordance with best practices," Mr Christie said as he gave his 2014/2015 budget communication.
"As well, after extensive and due consideration and discussion, we are also moving forward with the regularisation and taxation of web shop operations in this country.
"Conservatively, we expect this to provide a revenue intake of some 0.14 per cent of GDP in the next fiscal year and beyond.
"I want to be clear on this matter to the effect that the regulatory and taxation regime that will be introduced for the web shops will feature very stringent and demanding standards in terms of levels of controls and accountability.
"To that end, the government has engaged international experts who will advise on an appropriate policy and legal framework for the sector. I also wish to advise that the taxation of the web shops will be retroactive to July 1, 2014."
Afterwards, Mr Wilchcombe told The Tribune that the final details on web shop regulation should be done by next week.
"That's being worked on right now, over the next six, seven days we'll have it all completed," the tourism minister said.
"We have the experts from the AG's Office and others looking at it right now to ensure that we arrive at a workable rate," Mr Wilchcombe said. "We're looking at what the previous administration had advocated, they advocated 15 per cent. Whether we go that high we're not sure yet."
Mr Wilchcombe said the government has not yet decided if it will tax customer winnings or the net or gross profits of web shops.
He said the government's proposed regulations will impose strict operating guidelines on the sector. This will likely force the closure of many of the newer, smaller operations.
"The market will be cut back some and also a number of things will be predicated upon your existence, including your bond, so you have to think about how you can survive in a business that is regulated," Mr Wilchcombe said. "Right now many companies are out there because they are unregulated."
In 2012, Mr Christie said web shops could face up to $1m in licensing fees coupled with a performance bond in a bid to award certification to a small number of licensees if the sector became regulated.
The controversial Gaming Bill was shelved in October last year following an outcry from Progressive Liberal Party (PLP) backbenchers over elements which discriminate against Bahamians while giving more opportunities to foreigners.
Yesterday, Sandy Sands, Baha Mar's senior vice-president of administration and external relations, said casino operators are "very happy" with the prime minister's announcement over the Gaming Bill.
"For the sector, the bill that is present before Parliament will create a level playing field and bring the Bahamas' gaming industry into the first world and put us into a very competitive position and also allow us to attract gamers to this destination," Mr Sands said.