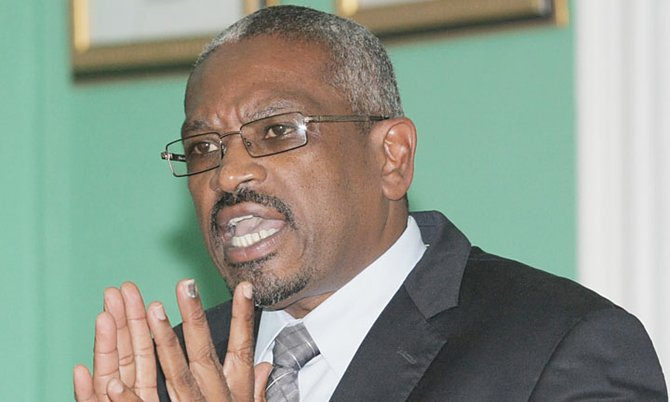 By AVA TURNQUEST
Tribune Chief Reporter
aturnquest@tribunemedia.net
FNM Leader Dr Hubert Minnis has defended his record as party chief, saying that it was he who held the "deflated" party together after its "greatest defeat" in the 2012 general election.
In a commercial that was posted on his Facebook page and You Tube account yesterday, Dr Minnis said after its election loss, many people abandoned the FNM while he was the subject of "insults" and "negativity" from critics.
Dr Minnis also declared that the FNM is now "battle ready" as a result of his efforts.
Dr Minnis' video began with the question: "Why should you be re-elected leader of the Free National Movement as opposed to Loretta Butler-Turner?"
"It was I who inherited the Free National Movement after its greatest defeat," Dr Minnis said in the video.
"I inherited an organisation where people did not really want to be a part of because it was deflated at that time, and in fact individuals were running away. I inherited an organisation where we had in excess of a million dollars in bills. It was I who brought individuals together to help bring that bill under control.
"It was I who held the party together in spite of the insults and the negativity that may have been inflicted and thrown at me, but in spite of that I persevered because it was my responsibility as leader to hold the party together to prepare the party for the battle that we knew would eventually come, and now we are battle ready."
The video follows the weekend release of a commercial by contender and FNM Deputy Leader Loretta Butler-Turner.
Mrs Butler-Turner told The Tribune yesterday that she planned to continue her tour of the country, adding that she was honoured by the level of encouragement and positive feedback she has received from delegates, supporters and the general public.
She explained that while she appreciated the significance of her campaign to the progression of women's rights, her main focus was on demonstrating her capacity for leadership of the party, and ultimately the country.
She declined to comment on the claims made in Dr Minnis' video.
"I think whenever there is new ground being broken or trails blazed, there are always challenges," she said.
"Nothing I feel is insurmountable, at the end of the day while I'm a female and that has an appeal to different people, my campaign is based on the fact that leadership is the question here. We want to ensure that the delegates voting (at the) convention are able to make very clear choices with regards to leadership."
She added: "Not just as it relates to the leadership of the party, but with a very clear decision with regards to who would be the best candidate for taking our party to victory whenever elections are called. I think that every contestant will have a set of obstacles to overcome and I've prepared myself as a leader to be in that position to meet every one of those challenges and to overcome them. Therein lies the real characteristics of a leader."
The party's convention is set for November 21.