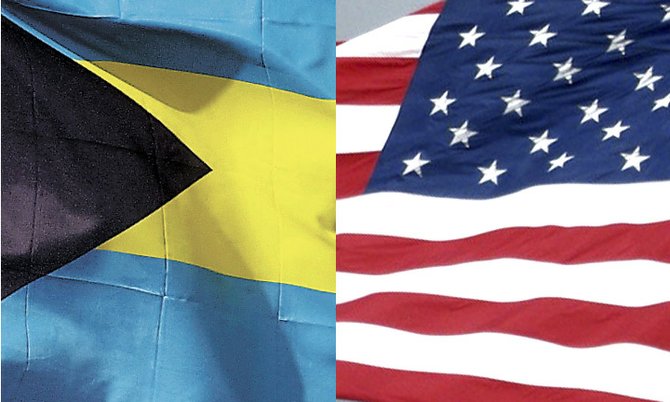 By RASHAD ROLLE
Tribune Staff Reporter
rrolle@tribunemedia.net
A NEW American warning about crime in the Bahamas expresses concern over home invasions and a recent spike in reported sexual assaults, some which are linked to the loosely regulated water sports industry on Paradise Island.
One American woman was allegedly the victim of a kidnapping and violent sexual assault last month, the warning said.
The US Embassy in Nassau released the alert to US citizens living or travelling to the Bahamas yesterday. It cautioned Americans to be on heightened alert to avoid being victims of crime.
Although the warning noted that US citizens are not targeted directly, the alert said over the past several weeks there has been an increase in the level of crime in areas where US citizens live and frequent.
On the issue of sexual assaults, the embassy noted that police have recently warned women to be vigilant after a recent spike in the number of reported sexual assaults in Nassau.
As for reported instances of sexual assaults involving US citizens, the message said: In October, a US citizen who resides in the Bahamas was kidnapped and violently raped while walking home. The water sports rental industry is only loosely regulated; since July, there have been three reported sexual assaults on US citizens, including minors, by jet ski operators on Paradise Island.
The embassy also said criminals are becoming bolder. We also have noticed criminals increasingly becoming more brazen and creative in their methods, the alert said.
It noted that three Americans were victims of armed robberies that occurred in daylight in heavily frequented tourist areas. One of these was a woman walking near Ardastra Gardens, the US Embassy said.
In mid-October during daylight hours in a heavily populated area, two men armed with handguns robbed customers waiting in the drive-thru line at a local restaurant.

Armed assailants have placed random items in the street as impromptu roadblocks so unassuming drivers would stop and could be robbed. A man was shot at Potter's Cay, near the base of the Paradise Island bridge, at a time when tourists would still be frequenting the area, the warning said.
On home invasions, the statement added: Home invasions in Nassau have become more numerous and violent. A home invasion on October 28 resulted in the murder of the homeowner. In August, a US citizen was the victim of a home invasion and attempted sexual assault in the Cable Beach area.
The US Embassy noted that embassy officials receive an increase in reports of armed robberies, burglaries and other types of crime every holiday season.
US citizens are instructed to be vigilant, to review their security plans and to connect with programmes like the Department of State Smart Traveller Enrolment Programme (STEP) in order to receive regular updates about security issues in this country.
The warning came days after Police Commissioner Ellison Greenslade said crime was trending down and criticised the media's narrow focus on murder statistics. Crimes are down in all other categories, all major crime categories are down with the exception of that vexing issue and of course we have some issue with attempted murder, he said on Thursday.
Last month, Mr Greenslade also appeared to contradict Chief Superintendant Paul Rolle and Minister of State for National Security Keith Bell, both of whom raised an alarm over a recent spike in reported rapes.
Mr Greenslade said police figures show that reported rapes were down compared to last year.