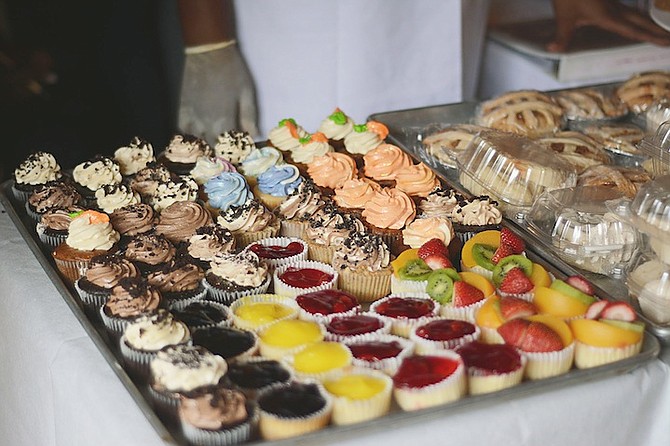 By ALESHA CADET
Tribune Features Reporter
acadet@tribunemedia.net
GIVING exposure to local pastry chefs and confectioners was the goal that was successfully met by Sugar Rush 2 last Sunday.
The Harbour Front Lounge at the Green Parrot was transformed into a dessert paradise as the team behind Sugar Bay Events presented their second annual showcase. Shades of pink decorated the space and the smell of sweet treats filled the air.
Sugar Bay Events are dedicated and designed to give small confectioners access to a larger than usual market. The company is run and operated by Bahamian entrepreneur Raeh Williams, her husband Don Williams, and her mother, Gina Mortimer-Storr. Raeh and her mother are descendants of Ulric Mortimer, Sr, of Mortimer Candies fame. And while their last name is synonymous with confectionery treats in the Bahamas, the pair has taken their family's business model to a new level.
At the first Sugar Rush in 2012, Raeh said they achieved their goal, which was for the vendors to walk away satisfied that they had a good event; whether that meant that they sold a certain amount of goods or that they got the kind of exposure they wanted, and Sugar Rush 2 was no different.
"There are a lot of food festivals, but not many of them focus on pastry chefs. I am a Mortimer so this kind of thing is something I have known all my life. I am not a baker, but I worked on a wedding dessert bar before and it was just so much work, being on your feet like that. To see how much work you have to put in to make the kind of money you earn, I was like how do people make it? I wanted to do my part in finding a way to bring more exposure to them, and that is where this idea came from," said Raeh.
Raeh calls herself a "serial entrepreneur", simply because she said it is the truest description of who she is professionally.
"I push it to the point to where I actually teach classes on entrepreneurship. So for me this is just giving small business owners the opportunity to get their work out there. The business people who don't have the marketing tools or a store, they are operating from home and they need to get out there; I do this for them," said Raeh.
Showcasing their treats at Sugar Rush 2 were: Mortimer Candies, Gramma's Treats, Da Bahamian Vegan, The Tart Man, Bake Bahamas, Lexi's Sinful Treats and Pop-Stop. Jack Daniel's Honey provided a sweet buzz with their treats. Patrons also enjoyed and took part in giveaways and prizes from Dairy Queen and the Outback Steakhouse throughout the event.
A Sweet Spot corner was available for young bakers who decorated cupcakes and made their own candy-flavoured lip-gloss.
"Sugar Rush 2 had a bit of a family, cosy, almost nostalgic kind of feel. It's a Sunday afternoon, everybody is laid back; just enjoying themselves with not a worry in the world. We are just indulging. We had a DJ, Daval Dean, who has been with Sugar Bay Events from day one. We are not trying to do too much to take away from the event, we want the focus to be on the vendors," said Raeh.
Raeh said they have plans for Sugar Rush to keep for several years. However, she said she prefers to keep the event relatively small as opposed to putting on a large expo.
"The small event helps the vendors feel confident that they can sell their stuff. And having it once a year is good because then people always look forward to it," said Raeh.
Another event that falls under the umbrella of Sugar Bay Events is the Sugar + Spice empowerment seminar for tween girls aged eight to 13. Raeh describes the event as a fun-filled day of festivities.
"We talk to girls about entrepreneurship, careers, as well as things like self-esteem, how to deal with crushes and boys, street harassment, personal care, hygiene and health and beauty. It is just an empowering day for them, giving them the opportunity to hear some things that they are maybe not hearing in their homes and giving them to freedom to say things that they are not comfortable saying at home. We have done it only once at the New Providence Community Centre, but our intentions are to do it once a year in Nassau as well as once a year in Florida," she said.