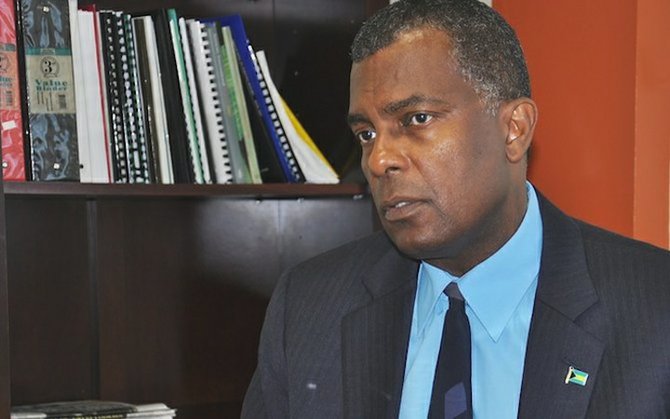 FIVE children who were picked up by Department of Immigration officers during an operation on Saturday remain in the care of the state, Immigration Minister Fred Mitchell said yesterday.
Mr Mitchell said the children are awaiting "the return of a responsible adult."
"In the meantime their care is superintended by the Department of Social Services," he added.
He said other children who were picked up on Saturday "were abandoned by their parents and paroled to a responsible adult within two hours of their being secured by immigration officers."
"That is the truth," he said at a graduation ceremony for immigration officers in Freeport.
He added that some 35 other children, who had been housed at the Detention Centre, who came to this country with their parents on boats from Haiti, were repatriated on Tuesday.
Mr Mitchell defended the practice of holding children of illegal immigrants at the Detention Centre with their parents.
"The practical fact though is that parents who enter the country illegally and are detained may protest their children being kept in a separate facility from them," he said. "So some accommodation may have to be made for the children in the Detention Centre to stay with their parents, given the sensitivities some have about children in the detention centre."
Mr Mitchell told the graduating officers not to be moved by criticism.
"You will hear all sorts of drivel," he said. "Your integrity will be attacked, but hold your head."
He also urged the country to remain calm as the government continues its immigration policies.
On Saturday the Department of Immigration took the media along as officers rounded up suspected illegal immigrants. Officials said 77 people were taken to the Detention Centre as a result.
The exercise coincided with the start of the government's new immigration restrictions, which seek to clamp down on illegal migration, particularly from Haiti.
Some observers expressed outrage after images spread over social media and were broadcast on television news showing children taken away by immigration officers, with at least one wearing a visibly soiled diaper.
However, immigration officials said children who were taken into custody without a guardian had been abandoned by their parents and turned over to Social Services officials.