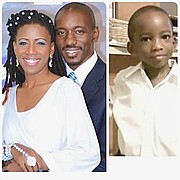 By RASHAD ROLLE
Tribune Staff Reporter
rrolle@tribunemedia.net
TEARFUL mourners gathered at Bahamas Faith Ministries last night soon after they learned that Dr Myles Munroe died in a plane crash on Grand Bahama with eight others yesterday.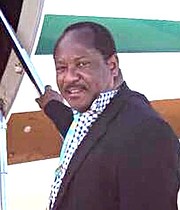 As somber parishioners converged at the Bahamas Faith Ministries (BFM) compound in New Providence, an anguished crowd had also gathered at the Grand Lucayan Resort in Grand Bahama, where Dr Munroe was to lead a conference today, hit hard by the news that his plane had crashed on its way to that island.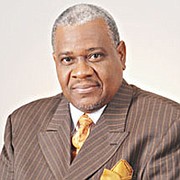 At an emergency press conference at BFM headquarters on Carmichael Road, BFM Pastor Dave Burrows led tributes from religious leaders to the acclaimed author and spiritual leader.
Pastor Burrows hailed Dr Munroe, 60, as a "visionary", noting that he was the "foundation" of BFM.
BFM board members received numerous phone calls from people around the world offering their condolences following reports of Dr Munroe's death, he said.
"We are all trying to console ourselves at this point in time because it is a terrible shock and it's very difficult for everybody so we are just calling on the faith that we have," he said.
"He is the driving force behind everything that we have done and he has been the inspiration for all of the people in this boardroom and for people worldwide."
Hours before his death, Dr Munroe led a Sunday morning church service in Nassau and then later left for Grand Bahama where he would have hosted a leadership conference on that island, Pastor Burrows said.
The Tribune understands that as news of the tragedy spread, hundreds appeared at the site of the crash, the Grand Bahama Ship Yard, where they lit candles and prayed.
Dr Munroe was scheduled to open the Global Leadership Summit today.
Before his death was confirmed, those attending the conference prayed and desperately sought information about his condition.
Tribune cartoonist Jamaal Rolle was at the conference to present a portrait to guest speaker and former Georgia Congressman, Andrew Young.
"A lot of the guests for the event didn't know what was going on," Mr Rolle said. "He was supposed to attend. People were dressed up but they just didn't know what happened. From what I understand, his son and daughter are here and they're distressed."
Once they were informed of the tragedy, those attending the conference started screaming and crying, according to a video seen by The Tribune.
Bahamas Christian Council (BCC) President Dr Ranford Patterson, who visited BFM last night, said this country will struggle to replace Dr Munroe.
He urged Bahamians to remember that "God is in control".
"Words cannot express what we feel tonight," he said after a special service at BFM, where hundreds gathered last night.
"The whole country is devastated over what happened. Dr Munroe has really impacted the Bahamas and I guess the entire world in such a way that I don't know who could fill his shoes. It is a loss for the country. I believe it is a loss for the nations of the world. Words could never be able to express what we in the clergy feel and I would imagine the members of BFM feel to lose not only the pastor and his wife, but the assistant pastor, Dr Richard Pinder and so many others who were a part of this ministry. For them to go to (at) one time will really be difficult in the days ahead, but we have the assurance that God will take care of us and that's what all of us will hold on to."
Dr Patterson said he spoke to Dr Munroe, 60, on Friday.
"He sent a note to me. . .I just have to go read it over again," he said.
Dr Patterson said his last conversation with Dr Munroe was about getting church leaders together "to do something" for another pastor who recently died.
"His words to me was we are going to have to get some information and all the leaders of the church together so that we could get and pay our respects to one of our fallen colleagues. And now today he is gone and the note that he left I'm still going to deliver and I don't know what else to say. It's a loss for this country."
He continued: "Bahamians, we are resilient people and we are going to bounce back. I believe the nation will remember the life of Dr Munroe and the work that he has done and left behind for us. I believe those works are going to go far in helping to change the mind-set of so many. And so, I just believe that God knows exactly what he is doing. And we don't understand why, but I just know that God is in control. Just remember that God is in control."
As news of Dr Munroe's death spread, condolences from prominent people within the Christian community spread across Facebook and other social media websites.
BFM will hold an emergency prayer service today.