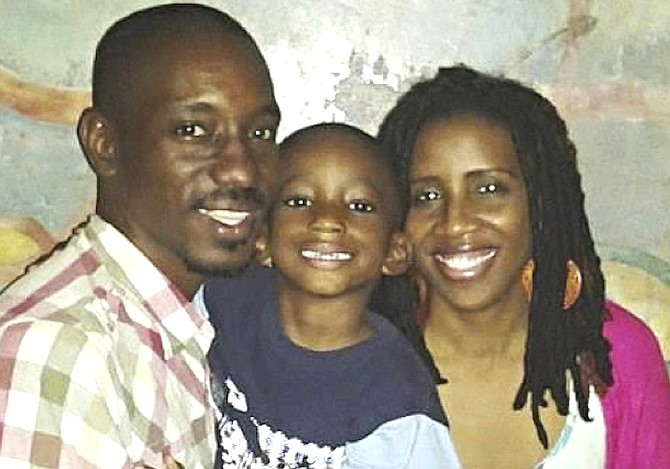 By KHRISNA VIRGIL
Tribune Staff Reporter
kvirgil@tribunemedia.net
THE young family of three, instantly killed in Sunday's plane crash, was expecting a child and had recently celebrated the purchase of a new home, compounding the grief of loved ones, according to family friend Arthia Nixon.
Lavard "Manifest" Parks, his wife, Radel, and their son Johanan, 5, were on board the Lear 36 executive jet with six others – including Dr Myles Munroe – when it went down in a gory crash in Grand Bahama. The couple, newly ordained Bahamas Faith Ministries International (BFMI) youth pastors, expected to welcome their second child into the world in April next year.
Mr Parks is also the step-brother of ZNS anchor Kendeno Knowles.
Ms Nixon, a friend and publicist for the couple, said many are inconsolable over the news.
Mr Parks was the founder of the Bahamas Hip Hop Fest and president and founder of Dunamus Soundz Records.
He was a pioneer in Bahamian hip-hop and gospel music and earned a reputation as one of the top selling gospel artists in the country.
His last major single "I Shall Rise" from "His Life, His Mic" album was performed live on the Trinity Broadcasting Network (TBN).
Mrs Parks, a graduate of the New York Film Academy, worked with her twin sister, Ranel Pierre, and founded Redemptive Productions.
The company produced plays, workshops and other entertainment events. 
Mrs Parks also worked with Brett Ratner of the "Rush Hour" film franchise as a casting director and worked on the set of television sitcom "My Wife and Kids" when they were filmed segments in the Bahamas.
"It's an inconsolable feeling to know that they are gone," Ms Nixon said.
"I haven't slept. I still have crying spells waiting on them to reply to the messages I sent when I first learned there was a crash without knowing who was on it.
"It's hard to understand because my last correspondence was them talking about their new house, the baby and our meetings we would get into this week."
"Radel and I were getting ready to confirm dates for a collaboration with the Consul General's Office of Atlanta and Lavard and I were talking about the public relations for Dunamus and himself.
"The hardest thing I ever had to do was compose myself and make the announcement on his Facebook fan page last night and right now I am just waiting on the family and label to decide when they are ready, what the next steps ought to be," she said.
In response to the Parks' deaths, the social media site Facebook was flooded with comments and condolences.
Mr Parks' sister, Leandra Parks, wrote a tribute to her brother, sister-in-law and nephew.
She said: "Words cannot express what I'm feeling right now. Yes, it is hard, but at the end of the day I have the peace of knowing that my brother Lavard 'Manifest'
Parks, my sister Radel Parks, my nephew Jo and the entire BFM team all went to be with the Lord. And because of that I am at peace.
"Lavard both you and Radel have lived extraordinary lives on Earth. You both have impacted and touched so many young people not only in the Bahamas, but throughout the world. Your time on Earth was well lived and because of that I am grateful. You both have taught me what it meant to be a true woman of God, one that should not rely on man but to put all trust in God alone.
"So to my brother, Manifest, Radel and Jo, know that your legacy will live on. And know we all are at peace knowing you all are in heaven now rejoicing. Kiss mommy for me. Until we meet again."
The plane crashed just after 5pm on Sunday after the Lear jet clipped a crane at the Grand Bahama Ship Yard before going down in a nearby junk pile.
Officials are currently investigating the cause of the crash but initial reports indicate that bad weather might have been a factor.