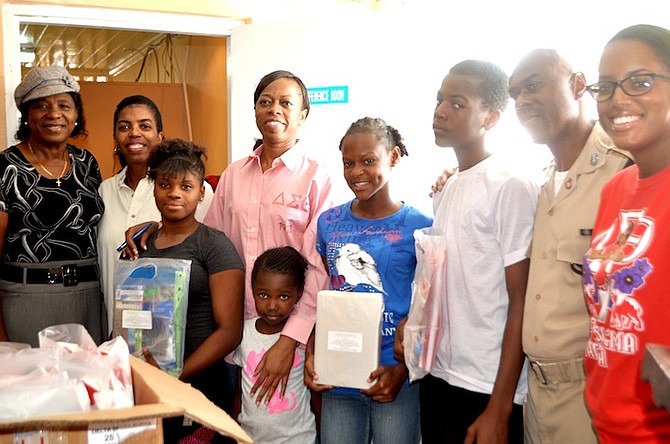 AS PART of its educational development initiatives, the Nassau Bahamas Alumnae Chapter of Delta Sigma Theta Sorority donated about 400 bags filled with supplies to local schools in the past month. The items were collected during the Sorority's Southern Regional Conference in July.
The supplies were presented to students and faculty at Palmdale Primary, SC McPherson, St Cecilia's School, Queen's College and the Englerston West Urban Renewal Centre.
Each school package was filled with novels, notebooks, pens, pencils, rulers, flashcards and other essentials for young scholars.
Jeunesse Osadebay-Bullard, the Nassau Bahamas Alumnae Chapter president, said the organisation has pledged itself to the national needs of the country's youth and will continue to work with social and civic leaders to limit their social and economic setbacks. "In the past, our chapter has hosted several community programmes that target Bahamian youth from an array of socio-economic backgrounds," she said. "We will never hesitate from that undertaking."
Among those programmes is the PACE Foundation, to which NABC recently 

committed to assisting with the refurbishment of its new home. The new facility will educate and rehabilitate dozens of teen mothers.
Mrs Osadebay-Bullard added that similar donations would be made from the collegiate arm, Upsilon Zeta at the College of the Bahamas, and the Grand Bahama Alumnae Chapter in Freeport.
Delta Sigma Theta Sorority is a public service, non-for-profit organisation that was founded to promote academic excellence and to help those in need.
It has over 350,000 members that represent 1,000 collegiate and alumnae chapters around the world.