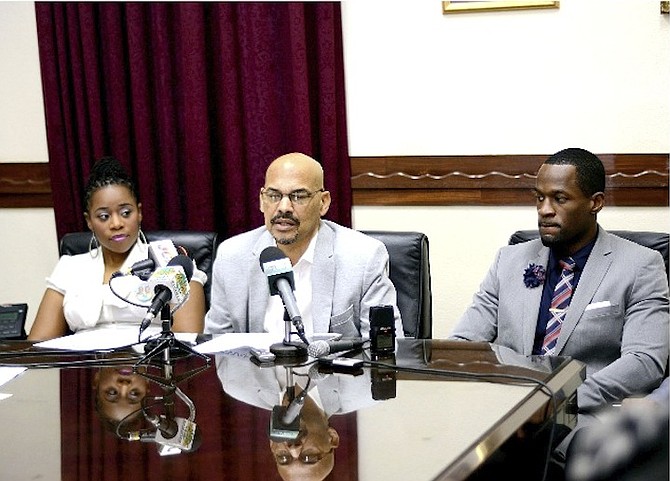 By RASHAD ROLLE
Tribune Staff Reporter
rrolle@tribunemedia.net
BAHAMAS Faith Ministries (BFM) Senior Pastor and Board of Governors chairman Dave Burrows announced yesterday a series of events in honour of Dr Myles Munroe, who perished along with eight others, including his wife Ruth, in Sunday's plane crash in Grand Bahama.
Mr Burrows announced that a home going service will be held on Tuesday, December 2, at BFM International Diplomat Centre on Carmichael Road for the late senior assistant pastor of the church, Dr Richard Pinder.
The following day, the life and contributions of Dr Munroe and his wife will be celebrated during a national memorial service of "thanksgiving and praise".
"We anticipate hosting this even at one of our major national facilities that will be announced as soon as all official confirmations have been realised," said Mr Burrows
The official funeral of Dr Munroe and his wife will be held on Thursday, December 4, at BFM International Diplomat Centre during a service that will be broadcasted live on television.
Mr Burrows said: "We intend to announce shortly a number of additional events leading up to the home going and memorial celebrations for Dr Myles, Pastor Ruth Munroe and Dr Richard Pinder. At that time we will announce the service time for each event. We are however pleased to announce that several organisations and churches from around the world have already planned and announced services of thanksgiving and celebration in honour of Dr Myles and his wife.
"Thanksgiving services are confirmed to be held in several countries, including Africa, Canada, Europe, Papua New Guinea, Barbados, several Latin American countries and at various churches throughout the United States of America. We are awaiting final confirmations from additional countries."
Mr Burrows said BFM has been flooded with well wishes from celebrities, presidents and heads of states from around the world in the wake of Dr Munroe's shocking death.
Yesterday, the Trinity Broadcasting Network (TBN), the world's largest religious network and America's most watched faith channel, joined those sending condolences. Matthew Crouch, vice president of TBN, and his wife Laurie were among the thousands who sent remarks to the Bahamian people.
"We are praying for the nation, our hearts are broken in regard to this tragedy and the fact that we will all missed him," said Mr Crouch. "Pastor Myles was an intricate part of Laurie's and mine's vision to the motion picture industry, ministry and so many things....In a lot of ways our journey is locked up with Dr Myles. In fact, there are dozens of Christian movies being made simultaneously now; in a lot ways Pastor Myles is the grandfather of much of that work that was pioneered into us."
Mr Burrows said officials are now considering a recommendation concerning renaming Carmichael Road after Dr Munroe.
"Members have said to me that we're ready, ready to proceed with the vision," he said of how BFM members are coping with the loss of their leaders.
"We've lost the visionary, but we haven't lost the vision. We lost our leaders but we haven't lost our leadership potential. We lost our mentors, but we haven't lost the mandate.
"And so as a church body what I have received to this point is total support and resolve to continue and to ensure that the legacy, the work, the message of Dr Myles Munroe lives on and continues to impact the world for generations to come."
A special service is expected to take place at BFM tomorrow, under the theme "Carrying on the vision, preserving the legacy."
An outline of the ministry's future is expected to be given, along with a special message from the family of Dr Myles Munroe.