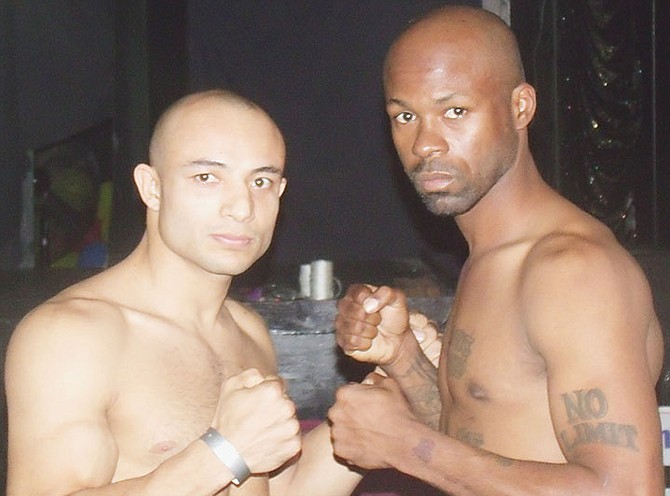 By BRENT STUBBS
Senior Sports Reporter
bstubbs@tribunemedia.net
AFTER a year of inactivity, Meacher 'Pain' Major is preparing to return to the boxing ring where he will take on the same opponent that he faced in his last appearance.
Dubbed: "Pain and Glory Part II: The Revenge," Major will take on Brazilian Roger Rosa at the Kendal Isaacs Gymnasium on December 5 on a professional boxing card that is being promoted by Tommy Stubbs and Buttons Formal Wear.
"Due to my injuries I had since the last fight, I was unable to compete, but I'm back healthy, thank God. Everything is in perfect shape and form," said Major as he looks forward to the much anticipated rematch with Rosa.
"I'm excited about it. It's always great to be able to fight at home in front of your home fans. I think I have the greatest support of fans out there, so this one is going to be dedicated to them. I just thank God and I want to thank Tommy Stubbs and Buttons Formal Wear for giving me this opportunity to come home and compete again. So I'm dedicating this to the Bahamian people."
Major, 33, and Rosa, 30, first clashed on December 13, 2013 in the Rainforest Theatre of the Wyndham Nassau Resort on Cable Beach. Major came out with the six-round unanimous decision to improve his record to 21 (17 KO) -6 (KO 4) with 1 draw, while a disappointed Rosa dropped his record to 5-5-1.
"It's going to be an all out war because he felt in the first fight that he was robbed, so I know he's going to come to make a statement and I'm going to make a statement and probably retire him and let him know that boxing is not for him," Major said. "I have something in store for him."
Like Major, who stands at 5-feet, 7-inches, the 5-4 Rosa will come into the fight in his first appearance since they last met. If that's any consolation, they both will be ring rusty. But Major said he's back home from his base in Buffalo, New York and he's putting in some work with his long-time mentor Ray Minus Jr, his trainer Nathaniel Knowles and Quincy 'Thrill-A-Minute' Pratt, who has offered to provide him with some sparring at his new gym that he recently opened in the old Jungle Club in Fox Hill.
"I'm focusing on a lot of boxing and stick and move because he's a shorter guy," Major said. "So I have to go back to my natural way of fighting and I'm looking forward to coming out victorious. I have to change this guy's whole mindset about the way he viewed the last fight.
"I'm not going to focus on what happened in the last fight. I know what happened and I also know that he can make the weight for this fight without any problems, anything could happen. It can be a rumble in the jungle. So I'm looking to outclass him this fight and to take him to school."
Hampered by a slight injury to his hand that he sustained in training, Major was not as effective as he would have liked to have been against Rosa. But he has indicated that he's now back healthy again and that could make a whole lot of difference in the way he performs this time around.
"I'm thankful to God for this opportunity. I'm back healthy and I'm at 100 per cent," he said. "I've done the necessary things to get myself back in shape, so I'm just looking forward to a great fight. I just hope that the fans will come out and support us as we try to take boxing to the next level."
As for Rosa's boisterous claim last year that there was no way he would allow a fighter from an island of just 300,000 people to beat him, Major said he's not going to retaliate with words and will just let his fists take care of business when they step back in the ring in less than a month.
Expected to fight in the co-main event is heavyweight Sherman 'the Tank' Williams, who is coming of a 10-round loss to Joseph Parker on October 16 at The Trusts Stadium in Auckland, New Zealand.
The opponent for the 42-year-old Williams, whose record is 36-14-2, has not been revealed as yet. Stubbs has indicated that he's still working on the details as well as completing the under card and should have that information available before the end of the month.