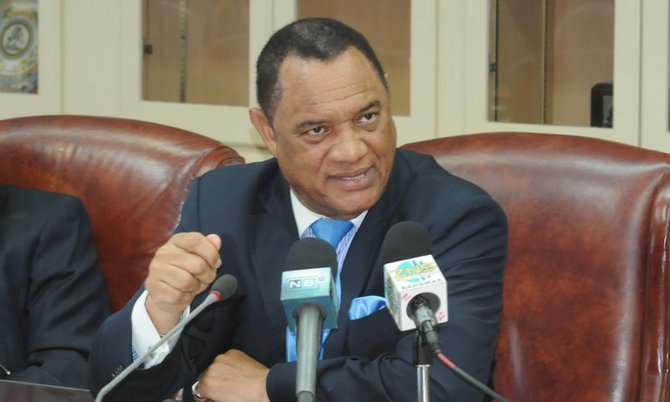 By KHRISNA VIRGIL
Tribune Staff Reporter
kvirgil@tribunemedia.net
PRIME Minister Perry Christie admitted yesterday that he was "worried" about the firestorm of international criticism that the government has been receiving because of its new immigration restrictions.
Mr Christie suggested that the government would start damage control as Foreign Affairs and Immigration Minister Fred Mitchell was expected to travel to Washington, DC, soon to explain the new changes that took effect on November 1.
His comments came the same day that Amnesty International, a global human rights group, expressed concern about the impact the changes will have on immigrants and their children, particularly those of Haitian origin.
Mr Christie told reporters he stood behind the policy changes that were implemented to tackle illegal migration. He spoke on the issue at The College of the Bahamas' Harry C Moore Library following the unveiling of the government's national development plan.
He stressed that the government had to do what was best for its citizens by clamping down on illegal migration.
"A long time ago, the policy was (that) everyone coming to the Bahamas before 1985 would be accommodated," Mr Christie said. "Successive governments, FNM and PLP, we have stayed with that policy. Haitian governments have asked us to bring the dates forward to 2000 to 2005 and successive governments, both FNM and PLP, have refused. We leave it to our discretion but we are sensible in our citizenship policies and we continue to give citizenship.
"Let's do the math. Let's look at what goes to the stability of our country.  How could any country, through illegal migration, allow its school system to be slowly dominated by a majority being of the Haitian extraction? It's sensible for a country always to do the math and to recognise that for its own protection of the civilisation.
"No leadership in the world who has the responsibility of running a country will not do what is best to protect its country. Protecting the country means being able to regulate who is in the country."
Mr Christie added that it is concerning when there are misunderstandings about government policy. He said it was not his administration's intent to be perceived as inhumane and unjust.
"You are always worried when people sort of misunderstand our policies and react before they have made an effort to understand what it is because we do not propose to have and be accused unjustly of inhumane treatment," he said. "That's not our intention and we do not want that to be seen as the case. We want to be responsible, but at the same time we have the primary interest of protecting the Commonwealth of the Bahamas."
On the day the new restrictions came into effect, immigration officials took the media along as it conducted raids and apprehensions in New Providence. Images and video of immigration officials apprehending people later flooded social media.
Some images also showed children being led away without their parents, leading some to question if the children were being mishandled. However, immigration officials said some children were abandoned by parents, who ran in fear, some leaving a stove on in a home before they fled.
This led Florida politician Daphne Campbell, who was born in Haiti, to call on businesses and tourists to boycott the Bahamas.
However, Mr Christie said he did not see the sense in Mrs Campbell's campaign.
He said: "(There is) difficulty with a call by someone with Haitian roots to boycott the Bahamas for what she perceives to be the impact of a new policy. Firstly her reasoning is wrong with respect to the policy. But secondly she must know that the Bahamas is a country where thousands of people from her country live and are citizens and are working. 
"So she is actually calling for a boycott of the very people she seems to be interested in helping. It doesn't make sense. It is nonsense for someone to do that."
Mr Christie told reporters that the government would continue to meet with Haitian churches and civic organisations in the coming weeks to understand their concerns.