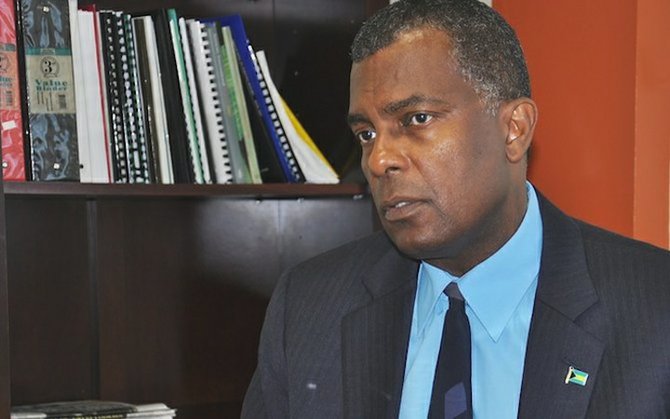 By RICARDO WELLS
THE Ministry of Foreign Affairs has branded recent remarks made by president of the Grand Bahama Human Rights Association Fred Smith over its new immigration restrictions as a "grave error".
In a statement released yesterday, the ministry said Mr Smith's comments are "materially incorrect."
"The ministry is again concerned by certain actors in the population that appear to be intent on chasing headlines, seeking to create public hysteria and resorting to misinformation in order to do so."
The statement continued: "Their language is intemperate, inflammatory and the claims regarding the immigration policy are inaccurate."
"There has been no breach of the law and no violation of anyone's constitutional rights, sanctioned by the Bahamas government in the enforcement of the country's immigration laws," the ministry added.
This came after Mr Smith, an attorney, called the new immigration restrictions "institutional terrorism" and "ethnic cleansing."
"It can only be described as institutional terrorism, if by that term we mean an inhuman and degrading policy designed to strike fear in the hearts of an entire community," Mr Smith said. "They are breeding 'Haitian hatred', racism and discrimination. It seems the Bahamas is now into ethnic cleansing."
Mr Smith in a press statement said mass round-ups are unconstitutional and a flagrant violation of the fundamental concept that individuals are innocent until proven guilty.
"The GBHRA has nothing against immigration officers detaining those they have good reason to believe are in the country illegally, and subjecting them to the process outlined in the constitution for anyone suspected of breaking the law," he said.
"However, this draconian business of wholesale round-ups, indiscriminately casting a net over entire sections of the population – both innocent and guilty alike – and then sorting illegal immigrant from lawful resident after the fact, is downright criminal.
"Sadly, rather than applying the law properly on a case-by-case basis, this new policy of home invasions, of totally illegal road blocks and checkpoints, seems designed to create 'shock and awe', to send an intimidating message to the Haitian-Bahamian community. And it's working – some have abandoned their homes and even their children."
Mr Smith added that there were countless innocent people caught in the raids who have been subjected to lengthy detention periods in hostile, unsanitary conditions and the loss of thousands of dollars saved in bank accounts.
The immigration changes came into effect on November 1.
On that day, there was a mass round-up of illegal immigrants, mostly Haitian, in New Providence.
According to the new restrictions, as of November 1, the government mandates that first-time work permit holders who are residents of Haiti must fill out their applications and provide supporting documents from the embassy in Port-au-Prince.
It is also mandatory for all persons living in the Bahamas to have a passport of their nationality.
According to officials, persons born in the Bahamas to non-Bahamians will be granted a special residence permit that will allow them to work until the status of their citizenship application has been determined.
The government has also said it will not accept applications for people who do not have legal status to work in the country, but are currently residing here.