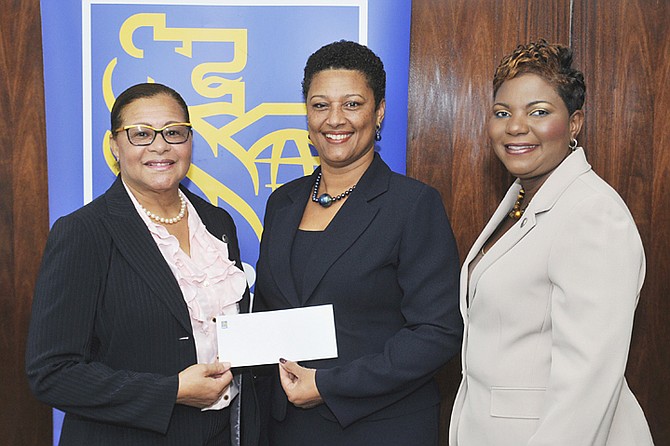 THE third and final installment of RBC Royal Bank's $30,000 commitment to the Bahamas Technical and Vocational Institute (BTVI) to provide tuition assistance to three promising students - Victorian Knowles, Dexter Laidley and Philip Curling - has been made.
Curling is pursuing an Associate of Applied Science Degree in Information Technology Management; Laidley is working towards a Certificate in Electrical Installation; and Knowles is enrolled in the Associate of Applied Science in Information Technology Management programme.
"I was surprised to receive the call telling me that RBC had donated and as a result I was selected as a recipient," Knowles said. "I have always wanted to pursue a Degree in IT since I was nine or ten years old and now, with this assistance, I am able to achieve a lifelong dream. My ultimate goal is to work as an X-Ray technician and this training at BTVI will allow me to build on a very strong foundation."
Dr Iva Dahl, BTVI's manager/consultant, said: "RBC is well known for its philanthropy in the Bahamas. At BTVI, we are elated to have again been selected as recipients of such a kind gesture. Your donation proves that you are concerned about education in the Commonwealth of the Bahamas, and more importantly that you see the value in technical and vocational education."
RBC has invested in hundreds of youth development programmes throughout the country and remains committed to educational programmes that make a difference to the community.
"RBC supports a wide range of initiatives that help young persons to realise their potential," said Nathaniel Beneby, the bank's managing director, the Bahamas, Cayman and Turks and Caicos Islands. "Our contribution to BTVI allows us to expand educational opportunities for young Bahamians with the expectation that they will lead and inspire future generations."