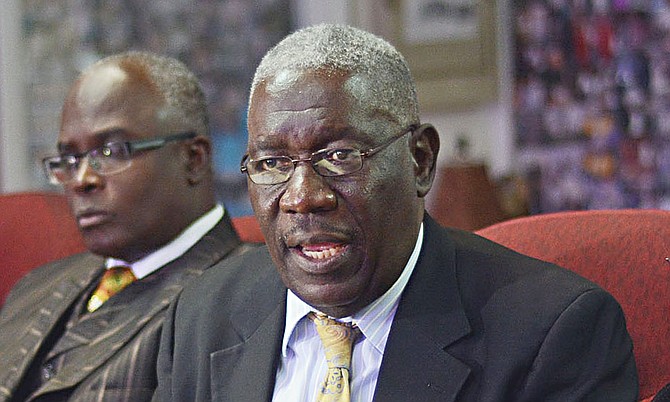 By NICO SCAVELLA
Tribune Staff Reporter
nscavella@tribunemedia.net
BISHOP Simeon Hall, pastor emeritus of New Covenant Baptist Church, yesterday urged gang members and criminals to turn in their illegal firearms, as a way of reducing gun crime in the country.
Bishop Hall also called on the government to do something "a little more drastic" in its efforts to combat the surge of violent crime.
This week three men were killed in three separate shootings in less than 12 hours, taking the country's murder toll for the year to 106.
On Tuesday night, two teen boys, who are armed robbery suspects, led police on a high speed chase and shoot-out before they crashed into a wall on Jerome Avenue.
At a press conference at the New Covenant Baptist Church, Bishop Hall, flanked by a dozen other religious leaders, said the government must find a way to put fear in criminals.
"Many of the pronouncements made by the present government about crime has not instilled fear amongst would-be criminals, particularly since we're not hanging anybody anymore," Bishop Hall said.
"We call on the authorities to do something a little more drastic to put the fear that exists in the hearts of the average Bahamian must exist in the hearts of the would be criminals, that if they do the crime, they do the time."
In light of the escalating murder rate and incidents of violent crime, Bishop Hall said pastors are willing to offer themselves as mediators.
"Each time a murder takes place, a minimum of two families are negatively impacted," he said. "One person goes to the grave and the other goes to prison. In all cases, children and other loved ones are always negatively impacted.
"Too many families are being left in sorrow and must face funeral costs. Mothers who cloak their sons use of illegal guns might soon have to weep while burying them or have some other mother weep over the loss of her child from such guns. As pastors we are always challenged and saddened when we must bury so many young black men.
"Turn in your guns to us," he added, "and let us help you to avoid becoming the next murder statistic or the next perpetrator of a serious crime or murder."
Fear
Pastor of Mt Calvary Baptist Church Philip McPhee said crime has some churchgoers afraid to attend night services or leave their cars unattended in church parking lots.
"Our wives are afraid to drive at evening time," he said. "We must take that fear out of the church and put it in those who are committing those crimes. We stand foursquare in trying to give help to the government of the Bahamas, the opposition of the Bahamas. We say let's come together and let's find a way to curb this crime situation so our streets could be safe and the Bahamas could be a better place for us to live in."
Father James Palacious of St Matthew's Anglican church added: "We're at a critical juncture in our history. We're getting a lot of notoriety from national and international bodies on the level of crime. Where we are today didn't take us just a few years to get here. Getting out of it is not going to take a few years either. Fighting crime is not just the responsibility of the police, it's for each one of us individually as citizens of this commonwealth."
Other religious leaders that support Bishop Hall's sentiments are Bishop Ross Davis, Pastor and former Assistant Commissioner of Police Hulan Hanna, Dr Marina Sands, Reverend J Carl Rahming, Bishop Walter Hanchell, and Pastor Joseph Thompson.