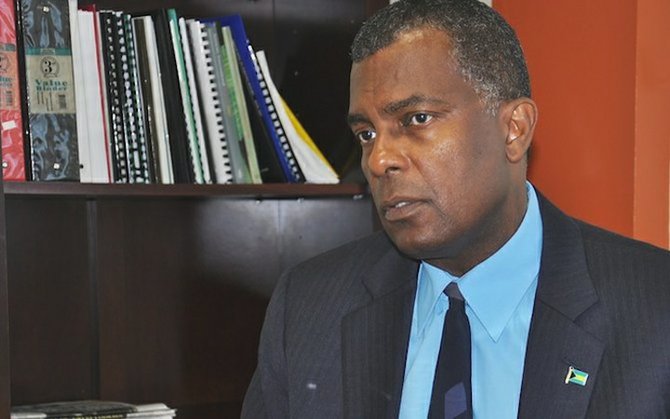 By KHRISNA VIRGIL
Tribune Staff Reporter
kvirgil@tribunemedia.net
FOREIGN Affairs Minister Fred Mitchell said the execution of new immigration policies is a blunt instrument that should not be viewed as social work as he asserted the government's unwavering commitment to tackling illegal migration.
Responding to the wave of criticism that the Christie administration has received both locally and internationally over the new restrictions, Mr Mitchell said the policy is for the Bahamas and its protection. The changes took effect on November 1.
He told the House of Assembly that the government was not targeting any one nationality. He said the government's position was a logical consequence of the Constitution which does not confer citizenship by birth on children born in this country to non-Bahamian parents.
Mr Mitchell said: ". . .There have been unfortunate reports mainly by way of social media which have the effect of poisoning the well with regard to these policies. Let me repeat: The policies are generic.
"My surmise of the reaction to the chord which this has struck in the Bahamas is that this strikes at the very identity of the country and many feel that the country's future is threatened if actions are not taken to stem the tide of illegal migration.
"Decision-making goes in this cycle: the policy, its implementation, the reaction. The first reaction is resistance in some quarters. This test of the officials by those who oppose it is to see if it will shake your resolve by creating alarm in the society, the press and the world community."
He continued: "What I know is that law and order requires us to act to stem the tide of boat after boat after boat coming to this country seemingly unimpeded with hundreds of people on those boats with no visa, no means of taking care of themselves and no jobs. That becomes a national security problem. No government can stand still in the face of that."
Recently, international human rights watchdog, Amnesty International criticised the restrictions as unfair.
Haitian-born Florida politician Daphne Campbell has also called for a boycott of the Bahamas by tourists and businesses. Haitian Bahamian activist Jetta Baptiste has support this boycott call.
Mr Mitchell said the government has already repatriated more than 3,000 people to their home countries. He added that just two weeks after the last repatriation exercise, the Carmichael Road Detention Centre is already at full capacity.