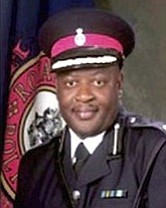 By DENISE MAYCOCK
Tribune Freeport Reporter
dmaycock@tribunemedia.net
SENIOR Assistant Commissioner of Police Emrick Seymour has expressed dismay over the unconscionable circulation on social media of gruesome pictures of the victims in the plane crash in Grand Bahama last week.
"It is a despicable act and we are pursuing an investigation into it," Mr Seymour said yesterday, ten days after the fatal crash that claimed the lives of Dr Myles Munroe, his wife Ruth, and seven others on board the Learjet 36. Immediately following the incident, photographs were taken of the victims at the crash site and circulated on social media.
ACP Seymour said the release of such photographs is disrespectful to the victims and their families. "It is so distasteful for people to really take advantage of these unfortunate situations by sending out all these photographs all over the worldwide web for everyone to see, without regard for the victims' family," he said.
"I want to ask them to cease. We are pursuing the investigation and wherever we find there is a breach we will take appropriate action against them. Not only this particular matter, but we are looking at all such incidents to see how we can get to the bottom of it."
ACP Seymour is appealing to Bahamians to exercise sensitivity in such situations. "It is sad that Bahamians would try to take advantage of the misfortune of others by parading people's picture over the social media for others to see for the fun of it. I get irate when I see things like that happening. I am asking persons to respect the sanctity of the victims and their families, if you have any bit of humanness in you," he said.
ACP Seymour said there is a law and people have been prosecuted under it on two different incidents. "We will pursue the matter and whoever we find culpable we will take action against them," he warned.

Dr Munroe, founder and president of Bahamas Faith Ministries International (BFMI), his wife, Ruth, Dr Richard Pinder, vice president of BFMI, newly ordained youth pastors Lavard and Radel Parks and their young son Johanan, pilot Stanley Thurston, co-pilot Frankhan Cooper and American Diego DeSantiago were on board and on their way to attend the Global Leadership Forum in Freeport.

The Learjet was completely destroyed on impact and all nine persons were killed instantly. The plane went down around 5pm in bad weather after hitting a crane at the shipyard. The pilot was making an approach to land at the airport. Investigations are underway into the cause of the crash.