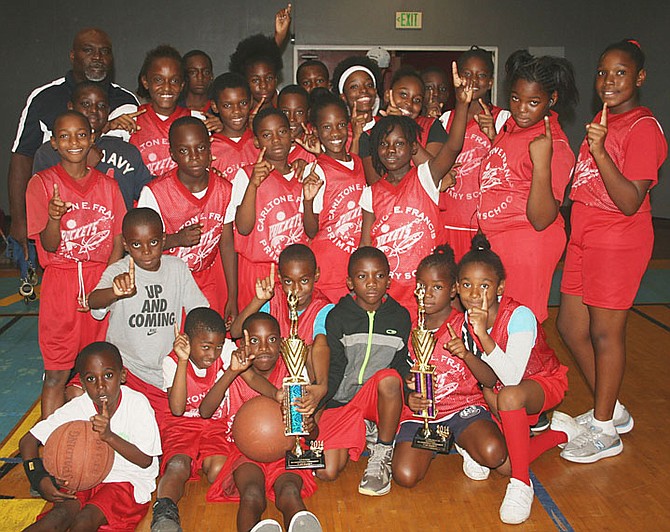 By BRENT STUBBS
Senior Sports Reporter
bstubbs@tribunemedia.net
THE Carlton E Francis Rockets won both the New Providence Primary Schools boys and girls basketball championship titles at the Kendal Isaacs Gymnasium on Friday.
The Rockets did it by completing the week-long tournament with the boys routing Thelma Gibson 18-3 and the girls pulling off a 15-7 decision over Carmichael Primary. While it was the third straight for the boys, the girls earned a repeat feat.
A total of 18 boys teams participated with Cleveland Eneas boys getting third and Oakes Field Primary was fourth, while there were 14 teams entered in the girls' division with Stephen Dillet taking third ahead of Thelma Gibson, who had to settle for fourth place.
On Monday morning, a special assembly was held at Carlton E Francis where the boys and girls teams were honoured for their accomplishment.
"The teams performance was outstanding. It was truly excellent," said vice principal Angela Morley. "I'm really proud of these teams because they are guided by a dedicated coach, who never fails to win. He always brings us the victory. Behind every great success, you must have a great leader, so I want to thank him for the effort he put into preparing our boys and girls as he teaches them the sport."
After winning the titles, Smith said their hard work has definitely paid off.
"We had five weeks of camp during the summer and practice started the first week after school opened," he said. "We worked very hard from the time we played in the Temple Christian Tournament and both teams have played very well. Neither of the teams have lost to a government school in the last two years."
Over the years that he has been at Carlton E Francis, Smith said his girls have won nine titles and the boys are closing the gap with seven.
"In 2011, I was sick. I came to start our summer camp here and I had to be transported to the hospital in an ambulance," he said. "I spent four weeks in the hospital and while I was there, it was like my spirit left my body and I was in the presence of the Lord. I watched as Carlton Francis basketball teams won a few championships.
"I told the Lord that you allowed me to work all those years and not allow me to be there to celebrate with them. I heard him say to know that I'm going to send you back to work with them and we have been winning ever since. We are going to the Freeport Tournament in February and we hope to come back with the titles as well.
"Unfortunately, we won't be going to the Father Marcian Tournament in December because it's the same week that we start our examinations, so I'm not going to allow the kids to go to the tournament when they have exams. I want them to focus on their exams because I want them to be able to further their education."
Aaron Brown, an 11--year-old prefect, said they worked hard for the victory.
"I felt good about what I was able to contribute, even though I'm the best on the team," stated the point guard, who was named the boys' most valuable player. "We have an excellent team and a great coach who always gets the best out of us."
While Brown carted off the boys' MVP, there was a co-MVP winner with Branika Alex and Raynell Young sharing the honours. "We worked hard for the championship and we believed in ourselves that we will win," said Alex, an 11-year-old sixth grader. "We just have to keep up the good work. I was glad to be one of the two MVPs, but I hope that all of the other girls will work hard and hopefully they can get the MVP too."
Added Young, an 11-year-old fifth grader: "I feel good. I think everyone did a good job. I knew I could play up to the level that I played, so it was good to be the co-MVP too."