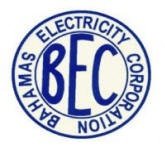 By SANCHESKA BROWN
Tribune Staff Reporter
sbrown@tribunemedia.net
HUNDREDS of Bahamas Electricity Corporation workers are expected to demonstrate in front of the corporation's main office today, protesting BEC Executive Chairman Leslie Miller's refusal to ratify the Bahamas Electrical Workers Union's industrial contract.
BEWU President Paul Maynard told The Tribune he will no longer tolerate disrespect from Mr Miller.
He said if the contract is not signed there will be "no Christmas and no Junkanoo" in the Bahamas because employees will not work the extra hours needed to power the events.
Yesterday evening, parts of eastern and southern New Providence experienced power outages because generators at Clifton Pier shut down, according to Mr Maynard. He added that while the union had no part in yesterday's power outages, "this is exactly what Christmas is going to look like" if Mr Miller does not budge.
Yesterday Mr Miller said if it were up to him, Mr Maynard would be "fired on the spot" for threatening Bahamians. The Tall Pines MP said Mr Maynard's attempt to disrupt the holidays should not be taken lightly and Bahamians as well as business owners should be "outraged by these threats".
Mr Maynard and members of the BEWU are expected to protest in front of BEC off Baillou Hill Road at 1pm.
He told The Tribune he is not meeting with Mr Miller to renegotiate a contract that has already been "signed off" by two cabinet ministers.
"Mr Miller thinks this stops with him but it doesn't, the minister is the boss," Mr Maynard said. "The point I am making is, I have an agreement already, I should not have to do this again. I stand by what I said earlier, if Mr Miller gets in the way there will be no Christmas and no Junkanoo, you need overtime for that and we will not work overtime.
"He doesn't want us to anyway, so we won't. Mr Miller is claiming this is about rostering, we don't have a problem with rostering. But what we discovered is the corporation is hiring extra people for rostering to work. So they are saving three dollars one way by paying someone $20 the next way. That makes no sense."
Mr Miller has said he would rather "resign" than sign a contract that is "not in the best interest of the people."
"Nothing has been finalised, they negotiated then they came to us for ratification," he said in an earlier interview. "I am signing something that does not have rostering in it. That is a normal thing, that is standard but because they want to collect millions in overtime they don't want it. You think I care if Maynard don't come to the meeting? He represents 600 or so people, I represent 365,000 Bahamian people and they trying to bleed the government dry. It will not happen in my watch, I will resign from parliament first."