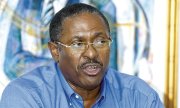 By RASHAD ROLLE
Tribune Staff Reporter
rrolle@tribunemedia.net
PROGRESSIVE Liberal Party chairman Bradley Roberts yesterday roasted political rivals for their losses in the recent Free National Movement convention.
However, he praised newly re-elected FNM Leader Dr Hubert Minnis as "astute," adding that the Killarney MP "knows what he is doing". He said Dr Minnis understood the "game of numbers" involved in courting the support of delegates.
Regarding Long Island MP Loretta Butler-Turner and her failed bid for FNM leader, Mr Roberts said: "The former deputy leader seems to have gotten the wind taken out of her sail and I suppose her aggressiveness will be modified from here on end."
However, Mrs Butler-Turner has said she can rebound from her loss.
"I made the transition from being in government to losing and I think that one of the things you have to understand, I'm a person that is able to adjust to whatever the circumstances are," she said on the sidelines of the convention, shortly after Dr Minnis gave his victory speech. "We lost after we were in governance and in opposition I haven't lost my enthusiasm. So you have a very clear picture of how I react to negative situations."
Mr Roberts also criticised former FNM Deputy Chairman Dr Duane Sands, who vied unsuccessfully for FNM deputy leader.
He said: "I have already dubbed Duane Sands a serial loser. He and defeat have a loving relationship."
As for his former counterpart, Darron Cash, Mr Roberts said: "I was taken aback by the former chairman, Mr Cash, who I am told had a difficulty finding someone to second his nomination and received only 19 votes. That's a repudiation of his tenure as chairman of the party. If I were him I would certainly consider embracing a permanent retirement from politics; he is in pretty bad shape."
Mr Cash also ran for deputy leader, however, East Grand Bahama MP Peter Turnquest won that race.
Mr Roberts said "time will tell" if Dr Minnis proves to be a tougher opponent for the PLP than Mrs Butler-Turner.
He added that Dr Minnis "still got a lot to learn".
However, he had no comment concerning Dr Minnis' recent pledges, including his promise to create an "inner city tax-free zone" if he is elected as prime minister.
At Friday's convention, Dr Minnis retained the leadership of his party after a landslide victory over Mrs Butler-Turner.
Senator Michael Pintard was named party chairman.