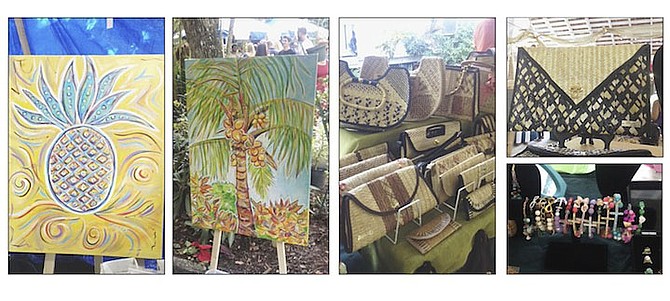 By ALESHA CADET
Tribune Features Reporter
acadet@tribunemedia.net
VETERAN vendors and newcomers alike enjoyed the latest instalment of the Bahamas National Trust's Jollification where they got the chance to display their wares and expand their clientele.
While the rain pour over the Christmas festival's first two days put a slight dampener on things, hundreds of Bahamians still flocked to the Retreat on Village Road and enjoyed all the local, handmade arts and crafts on offer.
The event was held under the theme "Rockin' around the Christmas Tree" and featured some of the country's finest artists, a wide variety of food and samples of drinks provided by Bristol Wines and Spirits and Bahamian Brewery.
The Jolly Market offered an array of homemade jams and jellies, cakes, jewellery, hand-painted tiles and straw designs from a number of artisans.
Among them was the mother and daughter team of Linda Johnson and Latoya Smith, who with their Bonita Designs showed off new straw work and a jewellery collection.
The duo described the experience as a good investment which allowed them to reach new clients and increase their profile.
"Jollification gives you a whole three days to do this. This weekend was a bit slow because of the weather, but on a normal basis, it flows pretty well. This kind of forum gives us the opportunity to showcase our work to people we may not have been able to reach (otherwise)," said Latoya.
Participating for the fourth time, Latoya said over the years they have gotten a good mixture of clients who appreciate their work.
"Our products are made to order and we normally do various shows and showcases throughout the year, mainly during the summer and Christmas, where you can find us at the Little Pink Party or Jollification," said Latoya.
Meanwhile, it was the first Jollification outing for Elsie Forbes, another straw vendor displaying in the Jolly Market.
Based on the feedback she received and the sales she made, Elsie said she will definitely be back next year.
"I have been doing straw work as a part-time hobby for about three years. Today I have my bags on display, but I also have a few crochet pieces, but didn't have any space to display it. The rain came but I still managed to get sales out," she said.
For those interested in paintings, rather than jewellery or straw bags for Christmas gifts, there were artists like Trevor Tucker offering their work.
On display at Trevor's stall were his commercial products like rubber coasters, hand-painted ceramic tiles, photo prints, canvas prints and mural pieces on tile.
"Even though the weather was a little off, it was still good. I will definitely do it again because it is a good variety of people that come out on all days. I just love being able to actually see the persons that are interested in my work and have conversations with them," Trevor told Tribune Arts and Entertainment.
Linda Thomson, BNT Retreat Committee member and volunteer, said for the adults, Bristol Wines offered free samples of alcoholic beverages. This area at the far rear of the BNT was carefully monitored and available only for persons over the age of 18.
Like every year, the children were catered to at a holiday crafts area, which featured nature oriented games and activities.
"The children's section used to be held at the back of the garden, but we now have it at the front which had a lot of activities for kids to do there and treats to eat as well. Everything is safe and sound and happy," said Ms Thomson.
Ms Thomson said Jollification is the main fundraising event for the Retreat garden of the BNT, which is primarily a palm collection.
"The garden has been in existence since 1925 and so we have to raise a lot of funds to keep this garden going," she said.