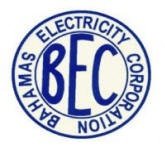 By SANCHESKA BROWN
Tribune Staff Reporter
sbrown@tribunemedia.net
POWER outages continued in New Providence yesterday after six engines at the Clifton Pier Power Plant shut down Monday afternoon.
Bahamas Electricity Corporation Executive Chairman Leslie Miller said the unexpected shut down of the engines forced the state-owned utility provider to load shed most of Monday night, leaving some parts of New Providence, in the east and west, in darkness for more than 10 hours.
Mr Miller said yesterday technicians were able to only restore two of the engines.
This means load shedding will most likely continue today and pockets of New Providence will continue to experience outages.
"Everyone went down at some point last night (Monday)," he said. "The entire night, I was out. In some instances the problem was fixed but we have to see what happens. Most people are back on but there are some pockets that still do not have electricity today (Tuesday) but we are working to get that resolved," he said.
"We had some serious problems, six of our engines at Clifton went out at about 4pm. They tried to bring them back for most of the evening. When they brought some back, they then had problems between Clifton and out east. Most of the east was out for the entire night. My house was out for the entire night. From what I understand we still have about four engines down, if we get two engines back up we should be fine, but we are load shedding now. Once we turn off our commercial customers this evening and get Blue Hills up, then we should be fine.
"It was unfortunate what happened – my lights were out too. I refused to get a generator, when people suffer, I suffer too. We apologise for it and we hope to have better luck with the engines tonight."
Outages continued to plague eastern and southern New Providence yesterday, prompting angry customers to vent their frustrations.
One irate business owner on Shirley Street complained that her power went off at 3pm yesterday and was still off at 7pm.
She said she was worried that her merchandise would go bad because it needed to be temperature controlled.
"This is ridiculous," the business owner told The Tribune. "We pay through our noses for BEC and we still don't get service."
Some customers took to social media to complain.
"All night last night, now on and off today, this better not be the union punishing us because they are mad at Leslie, this is just ridiculous," one customer said on Facebook.
Another person said: "For one month we were okay and then the outages are back. I don't even get mad anymore. I am used to it by now."
The union representing workers at BEC has denied any involvement in the outages.
Power disruptions were frequent this summer as BEC continuously struggles with electricity generation.
In July, thousands of BEC customers were without power due to BEC's "generator challenges" at the Blue Hills plant that interrupted service to more than 50 per cent of New Providence.
The month before, five of BEC's engines were struck by lightning which caused a widespread loss of power that lasted nearly 12 hours.